Nigel Farage's defence of former Ukip candidate Kerry Smith will 'entrench opposition'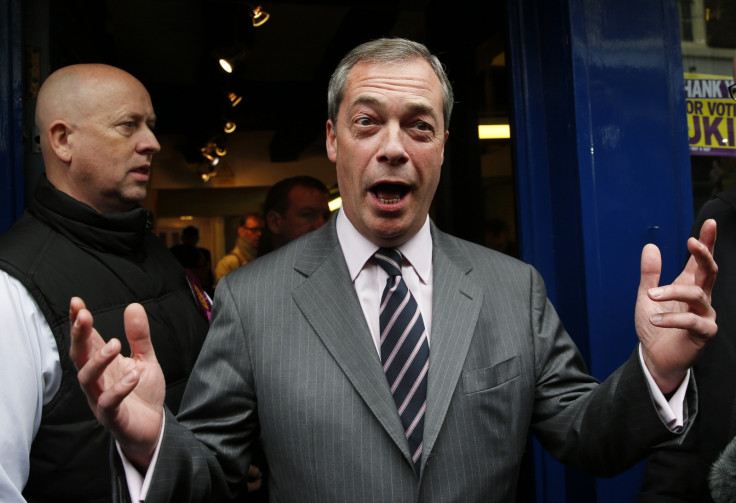 Nigel Farage's defence of a former Ukip candidate using the word "chinky" will "entrench opposition" against his party, according to a leading academic on Ukip.
Matthew Goodwin, author of Revolt on the Right, told IBTimes UK that ethnic minorities tend to "massively" avoid Ukip.
But the University of Nottingham academic said Farage's most recent comments would "entrench opposition" among groups who are not going to vote for Ukip.
"I don't think the comments themselves will have an impact," Goodwin said.
"We've seen, very consistently, Ukip, its spokespeople and activists making relatively similar comments in the past.
"The party support has remained fairly static around 16%. The reason for that is about the polarisation of Ukip's support in Britain."
He added: "You've got a party that's mobilising around 20-30% in a European election, but which is making very little progress among middle-class, university graduates as well as women and ethnic minority voters.
"Statements like this are likely to entrench opposition among groups who are not going to vote for Ukip anyway.
"In terms of the wider ethnic minority viewpoint, I don't think this is necessarily going to have an impact at the 2015 General Election.
"Ethnic minorities tend to avoid Ukip massively anyway. Ukip have a heavily white electorate."
Goodwin provided the insight after Farage defended a Ukip prospective parliamentary candidate (PPC) who called a Chinese woman a "chinky".
The Ukip leader said Kerry Smith is a "rough diamond" and was using language people would use to describe a Chinese takeaway.
Smith, who was selected by the Eurosceptic party to fight the South Basildon and East Thurrock seat next May, was caught out making homophobic and racist remarks by the Mail on Sunday.
The Essex County Council and Basildon District Council representative also described gay people as "f*****g disgusting old poofters" as well as joking about shooting people from Chigwell in a "peasant hunt".
Smith stood down as the party's PPC and resigned from Ukip after the remarks came to light.
"If you and your mates were going out for a Chinese, what would you call it?" Farage asked LBC Radio.
The Ukip leader also said that he was "sad" that Smith had made the remarks because he is a "rough diamond" and a "council house boy from East London".
Farage said he thought his comments were not "malicious", but stressed that Smith was not fit to be a PPC.
Farage has suffered a heavy slump in his popularity with voters after very public rows rocked the party.
New polling by Ipsos/Mori revealed Farage's rating has plummeted 14 points in less than three weeks, in the wake of uproar over his comments on breastfeeding and a Ukip sex scandal.
Farage's performance rating of minus 20 looks set to be seized upon by political opponents.
The research also revealed a second monthly fall in Ukip's predicted vote share, down to 13% from 16% in October.
© Copyright IBTimes 2023. All rights reserved.