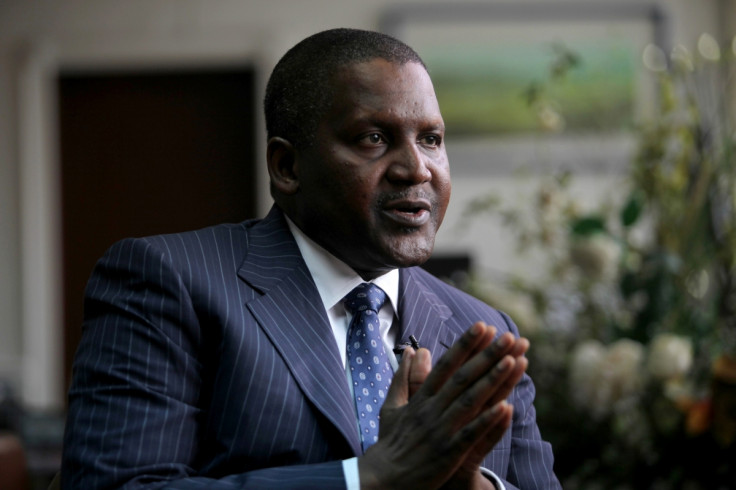 Africa's richest man, Aliko Dangote, has proposed that African states introduce free movement of persons, goods, services and capital across the continent, based on a European Union-style of cooperation.
Forbes estimates the Nigerian businessman is sitting on a net worth of $16.2bn (£10.8bn, €15.3bn) net worth as of 2 December. Dangote owns the Dangote Group, one of the largest industrial conglomerates in Africa, operating in Nigeria, Benin, Cameroon, Ghana, South Africa, Togo, Tanzania, and Zambia.
Speaking at the Global African Investment Summit in London on 1 December, Dangote told Hage Geingob, the President of the Republic of Namibia, he hoped African leaders "would convince each other to make sure we can move freely within Africa."
"Today, I need 37 visas to move around Africa, which doesn't really make sense. Sometimes I see Americans with American passports, and they will give you visas on arrival. But Africans, they want you to buy visas from their own country before you even enter.
"These are issues we need to really focus on so that [leaders] give us free movement of people, goods and services. I think this would improve the African trade," said Dangote.
Although Africa's current landscape contains an array of regional integration agreements (see below), Dangote outlined the issue that African businesses "create more jobs outside of Africa than in Africa", adding that to achieve growth the continent's nations need to "create jobs among ourselves".
IBTimes UK spoke to Matt Lilley, chief executive for Africa at Prudential, the insurance and financial services company, about rolling out a European Union-type single market in Africa.
Lilley explained that most African countries are small economies - with populations significantly smaller than the UK and relatively low income per capita, for example.
"That means they are small markets and if they have high barriers to trade between African countries, whether it's the movement of people or the time it takes for goods to cross the border or the tariffs that are applied for goods to move from one country to another, that acts as a significant disincentive to create labour intensive industries like manufacturing or services, which is what Africa needs."
While a number of African countries are reluctant to give up their sovereignty or the protection of their industries, Lilley said the East African community is actively trying to reduce barriers to trade, including setting out a common regulatory environment.
"If different countries have different regulations, sometimes even contradictory, it means you have to set up whole divisions of back-office staff in each individual country to comply with regulations which could quite probably be harmonised, and that additional cost makes the investment proposition less attractive for foreign investors because it doesn't create any additional revenue. But if more progress can be made, I think it will make Africa more prosperous."