Nigeria's north-eastern region of Borno is on the verge of being lost to Islamist group Boko Haram as it continues to make "lightning territorial gains", Nigerian experts have warned.
A new report by the Nigeria Security Network, a collection of Nigeria experts including former US Ambassador to Nigeria John Campbell, warns the group is preparing to take over Borno state's capital, Maiduguri.
The report, entitled 'North-East Nigeria on the brink', claims a successful offensive on the city would be swiftly followed by a takeover of the whole of Borno state, a development that would potentially threaten the surrounding regions of Yobe and Adamawa.
"If Maiduguri falls, it will be a symbolic and strategic victory unparalleled so far in the conflict," the group said.
"Unless swift action is taken, Nigeria could be facing a rapid takeover of a large area of its territory reminiscent of Isis's lightning advances in Iraq."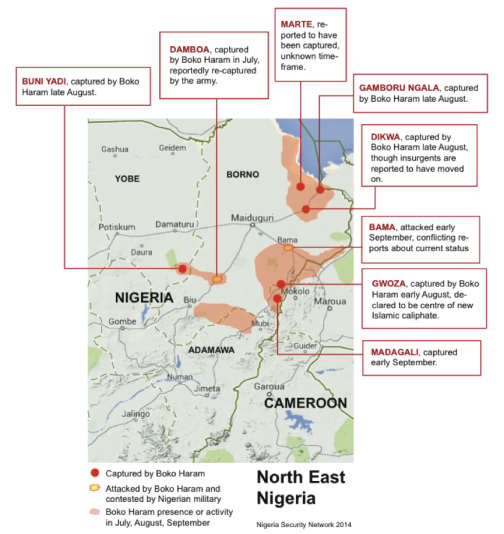 The warning comes after reports that the group has captured the strategic north-eastern town of Bama, the second-biggest in Borno state, killing scores of people after hours of fighting with the Nigerian army.
The militants have also captured the towns of Damboa and Gwoza in close proximity to Maiduguri, declaring an Isis-style 'Caliphate' in the territory they have seized.
The experts have called on the Nigerian government to urgently reinforce Maiduguri to prevent it falling into enemy hands and regain control over Borno's network of roads to stem the insurgency's advance.
They warn low morale and inadequate equipment in the army - with reports that troops are being sent into combat with only 60 rounds of ammunition to face Boko Haram's heavy weaponry and tanks - is causing soldiers to refuse to counter-attack and flee from battle.
"Despite the bravery of individual soldiers on the ground and the best efforts of the Nigerian government and military to support them, the response to Boko Haram in recent days and weeks has been insufficient to halt the group's dramatic advances," the report said.
Earlier this year, the group - who wish to expand their 'Caliphate' in north-eastern Nigeria - kidnapped more than 200 schoolgirls in the village of Chibok, bringing global attention to the west African nation's fight against terrorism.
According to Human Rights Watch, the militants have killed at least 2,053 people since the beginning of 2014.