The Nigerian defence ministry has dismissed fears that a link between terror groups Boko Haram and the Islamic State (Isis/Daesh) – allies since March 2015 – could put the country at increased risk of terror attacks. Defence spokesperson Colonel Rabe Abubakar told IBTimes UK that the recent arrest of suspected IS recruiters and members has shown the success of the country's strategy to stamp out terrorism.
The colonel made the remarks as the the Nigeria's State Security Service (DSS) announced it arrested university student Abdussalam Enesi Yunusa on the suspicion that he was planning to meet other militants at an IS terrorist training camp in Libya.
The DSS also said it had carried out a three-month crackdown on extremist groups amid fears Islamists were planning further attacks on Nigerian civilians. It said several terrorist attacks had been foiled while other cells affiliated with IS were found to operate in Nigeria.
Abubakar explained that the fight against terrorism requires a global effort and a "constant synergy" among countries. He said: "We have established very robust synergies with other countries to ensure that terrorist cells that have an international outlook are prevented from establishing any contact with similar organisations which have local bases.
"Our fight against Boko Haram has been extremely successful and we know now that Boko Haram has limited capabilities, limited assets and we will continue what we are doing to make sure they will stop attacking innocent people," he continued.
"We are also doing everything we can to make sure the insurgency is stamped out through education and awareness."
Who are Nigeria's Boko Haram terrorists?
Boko Haram, which has renamed itself Iswap, fights against Western influence in Nigeria and aims to impose its version of Sharia law throughout occupied territories.
Boko Haram carries out attacks in Nigeria and neighbouring countries in a bid to take control of more territory. Three Nigerian states − Adamawa,Borno and Yobe − have been under a state of emergency since May 2013.
Boko Haram has killed at least 20,000 people since 2009 and was deemed the world's deadliest terror group, surpassing its ally Islamic State (Isis) in November 2015.
Nigeria has become the world's third most-terrorised country.
Abubakar added that the Nigerian military needs the help of civilians to locate terrorists and prevent attacks. "The military needs the help of every Nigerian," he said.
When asked whether IS-linked terrorists recently arrested would be tried, Abubakar said: "We have a laid-down judicial system, which will take action. I believe we have the capacity to ensure we continue to inflict a lot of injuries not only on Boko Haram, but on all criminal organisations in our country.
"We will continue to clamp [down] on the terrorists and make sure we have proper coordination with the international organisations that can assist Nigeria to completely defeat Boko Haram and its allies such as IS".
In recent months, the Nigerian government has repeatedly declared a regional offensive – consisting of 8,700 troops from Nigeria, Niger, Chad, Cameroon and Benin – had been successful. In a previous interview with IBTimes UK, Abubakar,claimed Boko Haram's latest attacks were just an attempt by the insurgents to grab media attention. Boko Haram has not released any official statements , but its deadly attacks in northern Nigeria and the region continue.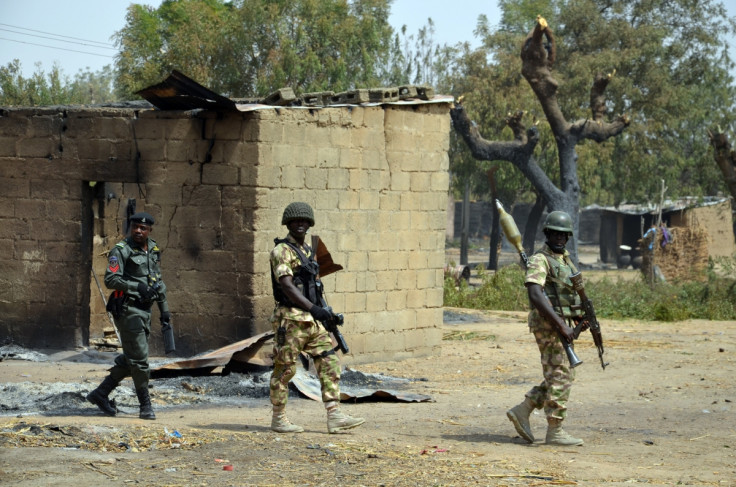 Intelligence warns Boko Haram-Isis link
Although the Nigerian government does not seem preoccupied about the link between Boko Haram and IS, intelligence experts have urged the international community to pay closer attention to this link, which could spread terrorism to other African countries and even Europe.
Last June, IBTimes UK published an interview with David Otto, chief executive of TGS Intelligence Consultants, on the dangers of the Boko Haram-IS link. Otto still believes the international community is ignoring the fact that every day Nigerian terrorists leave their country to travel to Libya and eventually Europe.
"The relationship between Boko Haram and IS is growing stronger and Boko Haram has a strategic importance for IS," Otto told IBTimes UK. "Boko Haram has found a way to keep recruiting members by burning down schools. The group creates a situation of fear and instability where children feel scared of going to school and think that their only option is to join the militants."
Otto added that IS is using Boko Haram's tactic as a source of recruitment of potential members who are then sent to Libya to attend training. "IS sends individuals connected with Boko Haram to find recruits and spread cells across the region," he said. This is happening not only in Nigeria, but also in Niger, Cameroon, even in Ghana, Senegal, Mauritania, Mali and Burkina Faso.
"Although there is collaboration among governments on paper, there isn't in practice," Otto continued. "People travel from Nigeria to Libya all the time because it is very easy to cross borders. Once these guys are trained in Libya, they will board ships and will go to Europe.
"Community-based awareness programs are essential at this stage. People have to be educated about the strategies Boko Haram is using to recruit," Otto concluded.
---
Nigeria up close: Check out our Flipboard magazine
---