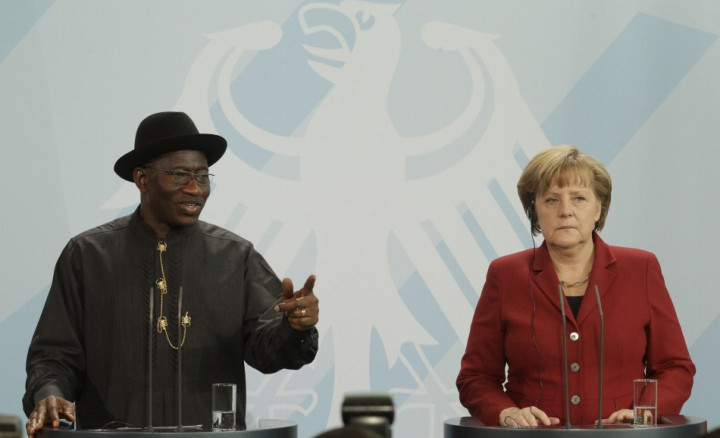 Nigerian President Goodluck Jonathan has pledged to contain the threat from terrorist sect Boko Haram, which has ravaged the country over the past two years.
On a visit to Germany, Jonathan assured German Chancellor Angela Merkel that his government "is working very hard and that we'll bring this under control".
Merkel offered to help Nigeria counter attacks from the radical Islamist group, saying there is a need to discuss in which ways Nigeria needs help.
"But what's most important is the Nigerian government's determination to counter the threat. Wherever we can help - with training, with logistics - we will do so," she added.
Investors have expressed security concerns over Boko Haram's violent activities in northern Nigeria.
The US embassy has warned its citizens living in the African country that Boko Haram is planning to attack the capital Abuja and will target major hotels used by Westerners.
"The Nigerian government is aware of the threat and is actively implementing security measures," the embassy said on its website.
Nigerian information minister Labaran Maku said the country's security forces have made major progress in fighting the terrorist group.
He also indirectly criticised the US warning, claiming it does not serve its purpose. "Quiet cooperation, sharing of information, acting together on such matters often gives more results than these occasional public statements, which often hardly help the situation," he told Voice of America.
"Because this is not a standing army we are following, it is not a war in which you can set a date that it be defeated today," he said. "But definitely the idea is to continue to struggle to minimise and to reduce to the barest minimum, which is exactly what the Nigerian government and people and security forces have been doing."
Boko Haram wants to impose Sharia law across Nigeria. The population is split roughly between Muslims in the north and Christians in the south.
The group recently published a video threatening to bring down President Goodluck Jonathan's regime within three months.
Over the past week, northern Nigeria has been shaken by several attacks by suspected members of Boko Haram. A bomb attack in the town of Kaduna left at least 46 dead over Easter and another near the border with Cameroon killed at least 10 people.
Since Boko Haram stepped up its deadly operations in 2009, the group is reported to be responsible for the deaths of at least 1,000 people.