Renowned British aerial photographer Jason Hawkes has shared his favourite photos of London from above that he took in 2016. Pictured at dusk or in darkness, the ever-changing capital glitters with jewel-like hues. New advances in digital-camera technology allow him to capture the city at night. "It's a fantastic city – the sprawl when looking from above is incredible," he says.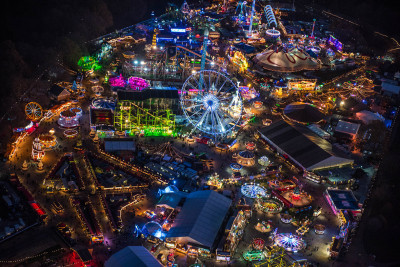 Hawkes says that he loves shooting just after dusk, when the city lights come on and there is a tiny bit of colour left in the sky.
He says: "Each time I fly over London I notice the landscape constantly changing, new developments seem to appear overnight." His latest photos show the massive redevelopment of areas such as Victoria, Battersea and Nine Elms, home to the new US embassy. He also captures detailed photos of Londoners enjoying themselves in the sunshine, looking like tiny ants on a vast lawn.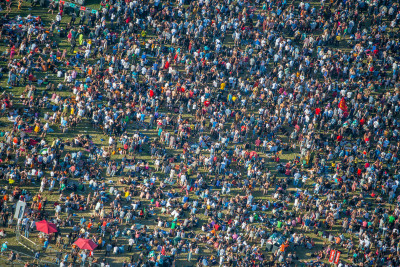 Hawkes is one of the world's most prolific and sought-after aerial photographers. He has been hovering over cities with a camera since 1991 – initially in microlight aircraft and then hanging out of helicopters.
Today, almost anyone can try their hand at aerial photography using inexpensive drones, but Hawkes says he always prefers the shots he can get from a helicopter. In an interview with Practical Photography magazine, he said: "Drones can do a good job for low-level photography and are very cost-effective when compared with hiring a helicopter. But there are many restrictions on where you can use drones and how high they can fly. Drone can only fly up to 400ft, while all my work is between 400ft and 1,000ft."
Hawkes attaches his camera to a special gyroscope mount that cancels out vibrations from the helicopter's rotors, allowing him to get sharp images. However, air quality is key – any haze or pollution can ruin aerial photos.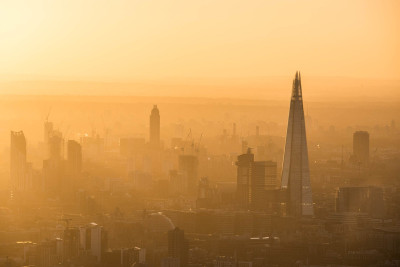 Hawkes was the official photographer on the BBC's huge Britain From Above project. He has published more than 40 books, including New York at Night and London at Night. His first book, London from the Air, came out when he was just 23 and has gone on to sell more than 160,000 copies. His work is in demand from corporate clients such as architects and advertising agencies.
To see more of Jason's images, visit jasonhawkes.com. Follow him on Twitter @jasonhawkesphot for the latest info and behind-the-scenes pictures.