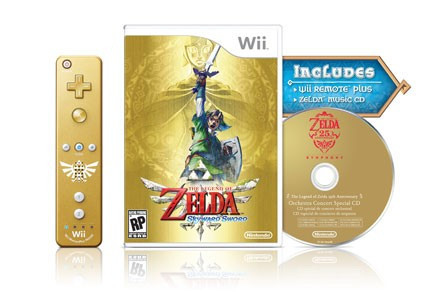 Following the company's recent disastrous financial quarter and the ongoing poor performance of its newest 3DS handheld, Nintendo has issued a statement reiterating its belief that its next wave of games will reverse the company's ailing fortunes.

The Games
The games line-up was announced at a recent meeting between a number of GameStop retail store managers with Nintendo of America's executive vice president of Sales & Marketing Scott Moffitt.
In the meeting Moffitt highlighted the Wii's forthcoming The Legend of Zelda: Skyward Sword and 3DS' Tetris: Axis and Professor Layton and the Last Specter titles as key players in the company's come-back.
The meeting saw Moffitt place particular emphasis on the company's next Zelda title. The VP was quick to point out a slew of extra features and "freebies" the company planned to offer consumers. First among these was the unveiling of the game's special limited-editionbundle.
Set for release in Nov. as well as a copy of the game, The Legend of Zelda: Skyward Sword bundle will also reportedly contain a new specially made gold Wii Remote plus.
Moffitt also revealed that all the initial production run of the game will also come with "a special music CD featuring orchestral arrangements of select songs that will be performed at The Legend of Zelda 25th Anniversary Symphony Concert."
The VP went on to reiterate his belief that the strength of the increased Zelda offer, when coupled with each of the three franchise's large followings would lead to an upturn in sales across the board, marking the first stage of Nintendo's return to form.
"Nintendo has something for you this fall, no matter what type of gamer you are, no matter what Nintendo system you're playing," commented Moffitt on the new games. "Whether you're looking for a world-spanning epic like The Legend of Zelda: Skyward Sword, the pick-up-and-play puzzle fun of Tetris: Axis or the mind-bending adventure of Professor Layton and the Last Specter, we've got you covered."
Financial Troubles
The news follows reports that Nintendo may be in financial trouble. Since triumphantly unveiling its forthcoming Wii U console, Nintendo has faced severe financial pressures with sales of its existing consoles and handhelds plummeting.
Following its last quarterly financial statement Nintendo changed its full-year product forecast from $1.4 billion to a meagre $257 million.
The hefty drop has since largely been contributed to its 3DS handheld's ongoing poor performance. For the three months preceding 30 June Nintendo only managed to sell 710,000 3DS consoles and 4.53 million 3DS games worldwide
The company has since instigated a series of policies designed to alleviate its financial pressures.
These have included a cut in the 3DS' price and a series of pay-cuts within the company.
The price cut saw Nintendo slash its 3DS' recommended price from ¥25,000 to ¥15,000.
The salary cut saw Nintendo president Satoru Iwata take a 50 per cent pay cut to help alleviate the company's resultant financial problems.
Alongside his own salary cut, the Nintendo President also revealed that several other Nintendo high-ups would also be taking similar cuts in salary commenting: "For cuts in fixed salaries, I'm taking a fifty per cent cut, other representative directors are taking a 30 per cent cut, and other execs are taking a 20 per cent cut."