Nintendo Switch bendable version in the works: Report
Bendable controls might be more comfortable than the ones currently available.
Nintendo Switch is one of the most popular gaming controllers till date. While the detachable sides in the current version themselves are something unique, the upcoming version might offer even better features.
The Joy-Con controllers have hinges that can attach and detach from the sides of the device.
The company is working towards a flexible and bendable version of the device, according to its patent filing with the United States Patent and Trademark Office.
The device is expected to be ergonomic and bend to provide a comfortable grip. According to the patent filing, the rest of the design will remain the same. So, you will still be able to detach the sides, while the middle part will be bendable.
To make this work, Nintendo will endow the device with a flexible circuit board, which will not break upon exerting force.
"The controller-side slide member includes a fixed portion that protrudes from a surface of the game controller and is fixed to the surface; and a pivoting portion that is connected to the fixed portion and is configured to pivot relative to the fixed portion," this is how the patent describes it.
The next Switch is expected to have a more powerful processor, more memory and improved battery. It is expected to have a larger screen and will definitely make for a more engaging experience. The new Switch is expected to have an edge-to-edge display instead of a regular one – the company is cutting the chaff by endowing more screen space on the side.
The most major difference is that the hinge can actually bend upwards and not detach completely.
Nintendo has not officially revealed its plan for the upcoming iterations for the device. But, filing for a US patent is indicative of the fact that it is considering the implementation of the technology.
Nintendo Switch has ever since its launch, given competition to the likes of PlayStation and Xbox and garnered huge demand.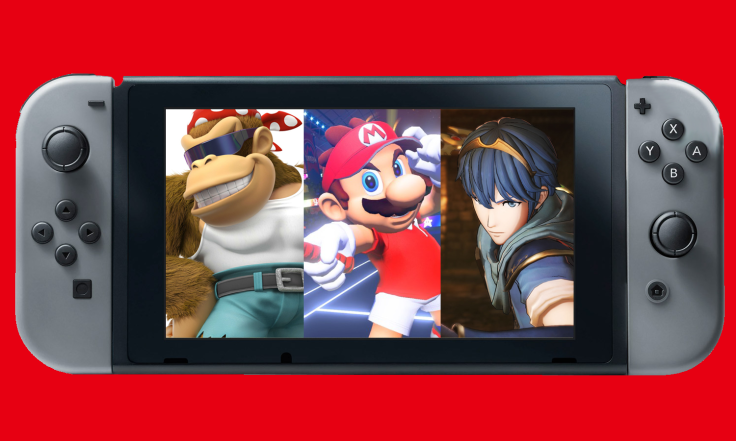 A Nintendo Switch bearing Funky Kong, Mario in his tennis gear and Marth from the Fire Emblem games.
Nintendo
© Copyright IBTimes 2023. All rights reserved.