Tottenham Hotspur manager Mauricio Pochettino has thrown the future of Dele Alli into doubt after refusing to guarantee the England international will remain at the club beyond the end of the season. The PFA Young Player of the Year has been heavily linked with a move away from north London, with Real Madrid mentioned as a possible destination.
Manchester City have now emerged as a possible candidate to sign Alli, who has scored 16 Premier League goals in just his second campaign in the English top flight, after former Barcelona midfielder Xavi claimed Pep Guardiola could bring him to the Etihad Stadium. Former Spurs boss Harry Redknapp has previously suggested that Alli is worth as much as £100m, more than Manchester United's world record signing Paul Pogba.
Alli showed his class once again as he scored in a losing cause as Chelsea reached the FA Cup final at the expense of Tottenham following a thrilling six-goal semi-final at Wembley at the weekend. But Pochettino is uncertain whether Alli will continue to line up for his side heading into next term – but admits he will make a decision with the club's best interests at heart.
"I cannot guarantee anything in life," the Tottenham coach said, according to The Evening Standard, when asked about Alli's future. "The most important thing is to enjoy [the] present and don't think about [the] future. In the future we will take the best decisions for club. After three years you can see how the team is improving every year and all our decisions so far have been good.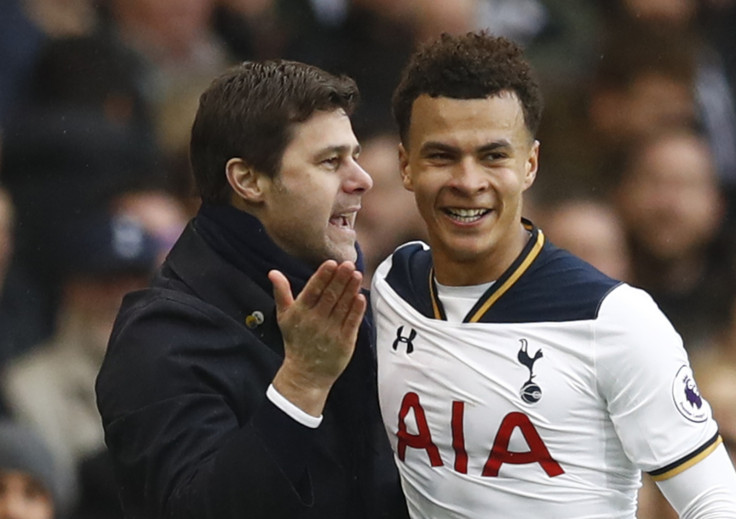 "Trust in the club that we will take the best decision to achieve things, to improve next season again. That's the most important thing. We care a lot about club and now we must focus on the present to try to help the team be there if Chelsea drop points.
"It will be special if in the last season at White Hart Lane we win the league. In the next three or four weeks we must give our best. We need big efforts from all of us, for the players to try to focus and not think about holidays, rumours, what will happen next season. In the last three to four weeks I want a big effort from everyone to achieve. Then we can congratulate everyone and try next season."
Crystal Palace host Tottenham on Wednesday [25 April], 24 hours after Chelsea take on Southampton in a game which could see the Blues go seven points clear in the title race. Five wins between now and the end of the campaign will deliver the title for the Blues, with the north Londoners hopeful of a slip-up by Antonio Conte's men.