There is no meeting with US Secretary of State Rex Tillerson on Russian President Vladimir Putin's schedule for Wednesday (12 April), the Kremlin said on Monday, noting that the US diplomat was only due to meet Sergey Lavrov, the Russian foreign minister.
Tillerson is on a two-day visit to Moscow from Tuesday - his first after taking over the crucial role in January. He is expected to discuss security issues with his Russian counterpart.
Kremlin spokesman Dmitry Peskov, meanwhile, did not rule out a meeting between Putin and Tillerson, and if that happens, the media will be informed, he said, according to Russian news agency Tass.
"We have not announced any meetings, and so far, there is no meeting with Tillerson in the president's schedule," Peskov told reporters, adding: "If this meeting [with Tillerson] appears [on Putin's schedule], we will inform you accordingly." He also said such meetings are not announced in advance.
When asked if a meeting was deliberately being avoided in the backdrop of the recent US missile strikes on Syria, Peskov said: "I don't understand what you mean. Go on discussing it."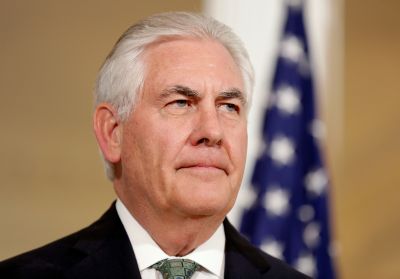 Tensions between the US and Russia have escalated after the Donald Trump administration ordered a series of missile attacks on a Syrian air base from where suspected chemical weapons were launched. The US strike was in retaliation for the alleged gas attacks by the Syrian regime, led by President Bashar al-Assad, on the rebel-held town of Khan Sheikhoun in Idlib province.
The US has blamed Russia – a Syrian ally – for the loss of hundreds of lives in the chemical attack. The United Nations and the G7 are pressing Russia to stop supporting the Assad regime.
US officials also said recently that their investigations found that Russia was aware of Assad's plans for chemical attacks on rebel-held towns.