No Windows car, but Microsoft's Cortana is coming to next-gen Nissan and BMW cars
Microsoft detailed its broader Connected Vehicle Platform at CES 2017.
BMW and Nissan have announced partnerships with Microsoft that will see the Cortana personal assistant integrated into vehicle dashboards from both carmakers. Both announcements coincided with CES 2017 in Las Vegas, where Microsoft also detailed broader plans for its connected car strategy.
Carmakers from across the globe have been picking sides when it comes to personal assistants− with Ford opting for Amazon's Alexa and Google Assistant coming to Hyundai vehicles − and while Cortana will arrive in BMW and Nissan cars in different forms, the move suggests that Microsoft is not willing to watch rival assistants drive off into the sunset without a fight.
BMW revealed that it is focusing on improving its current range of digital services and basic voice commands already available via its Connected platform by adding Cortana into the mix. The experience promises to mimic the experience Cortana currently provides on Windows 10 smartphones, PCs and the Xbox One.
While BMW attended CES 2017 with a further eye on the future with holographic touch screen in its concept autonomous cars, for now, the German company is looking to Cortana for hands-free in-car features, such as notifications, reminders, internet searches and restaurant reservations.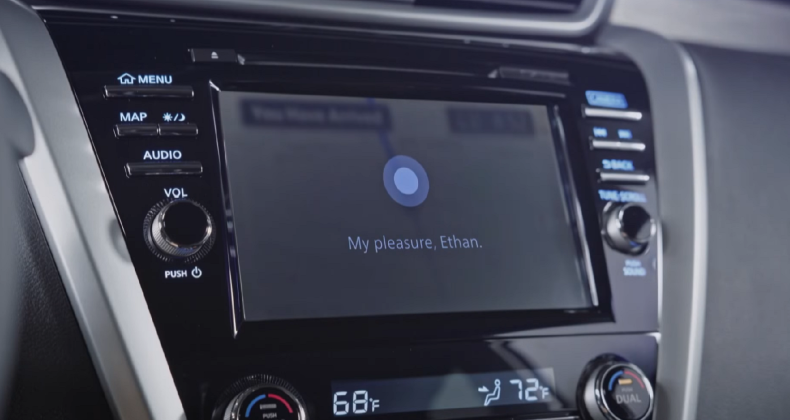 Nissan, meanwhile, appears to be adding significant features to the personal assistant's repertoire. The Japanese company has become the first to partner with Microsoft on its Connected Vehicle Platform (an expansion of its work with Volvo and Toyota), which will bring not only Cortana to the road, but also a wider suite of Microsoft apps and software − such as Office 365 and Skype − powered by its Azure cloud computing service.
A concept video shown during Nissan's CES 2017 keynote showed the wider variety of uses for Cortana on Microsoft's new platform. For example, in response to an event update, Cortana was shown suggesting that the navigation system should be re-routed to a new location. At the end of the clip, it is also shown that a Cortana command could be used to auto-park the car.
No Windows car
In a press release accompanying the announcements from BMW and Nissan, Microsoft made no qualms about quashing any suggestion that the Redmond giant is working on automobiles of its own. With Google spinning-off its autonomous car project under the oddly-named Waymo banner and Apple reportedly putting the brakes on "Project Titan", Microsoft appears to be pursuing a different path, as it looks to influence the in-car experience through partnerships with established, global car brands.
"As you may have gathered, Microsoft is not building its own connected car," reads the press release. "Instead, we want to help automakers create connected car solutions that fit seamlessly with their brands, address their customers' unique needs, competitively differentiate their products and generate new and sustainable revenue streams.
"Ultimately, Microsoft aspires to empower automakers in their goals for fully autonomous driving, with sophisticated machine learning and artificial intelligence capabilities, as well as advanced mapping services."