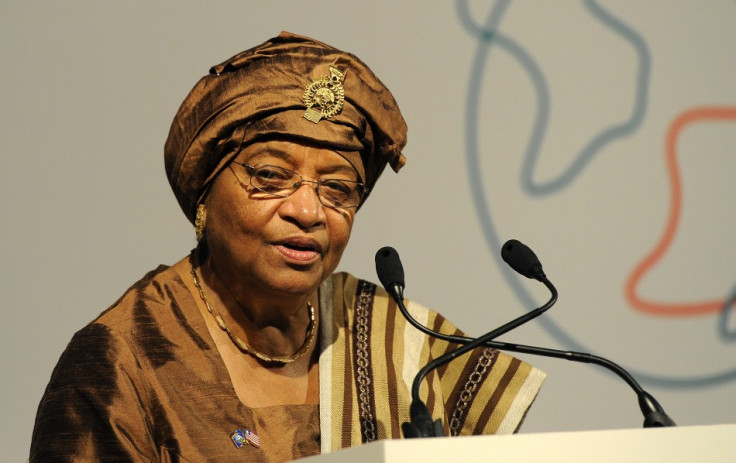 Ellen Johnson-Sirleaf, 72, known as the "Iron Lady" by her supporters, has been named as one of three joint winners of the 2011 Nobel Peace Prize, just six years after she became the first elected female heads of state.
Johnson-Sirleaf came to power as the country came to the end of a 14-year civil war and the prize was awarded to her just days before she stands for a re-elction, despite previously promising she would not seek re-election, so the timing of the award has been questioned by observers.
Johnson-Sirleaf is not new to politics and her career in the field goes 30 years back.
She was born Ellen Euphemia Johnson in Monrovia on October 29, 1938, and is the granddaughter of a traditional chief widely in western Liberia and a market woman from the southeast.
She grew up in Liberia and attended high school at the College of West Africa in Monrovia, but subsequently went on to study at Madison Business College, the University of Colorado and Harvard University's Kennedy School of Government where she obtained a Master's Degree in Public Administration in 1971.
After her studies, Johnson-Sirleaf emerged as a starched critic of the Liberian government but joined the then Treasury Department in Liberia in 1965 and was appointed Minister of Finance in 1979 where she introduced measures to curb the mismanagement of government finances but was also imprisoned in the 80s for criticising the military regime of Samuel Doe.
After the military coup d'état of 1980, Johnson Sirleaf served as President of the Liberian Bank for Development and Investment (LBDI) but fled Liberia just a few months later.
She travelled to Kenya and served as Vice President of CITICORP's Africa Regional Office in Nairobi, and later moved to Washington, D.C. to assume the position of Senior Loan Officer at the World Bank, and Vice President for Equator Bank.
She joined the United Nations Development Programme (UNDP) as Assistant Administrator and Director of its Regional Bureau of Africa with the rank of Assistant Secretary-General of the United Nations, in 1992.
She returned to Liberia in 1997 and entered her country's Presidential race but lost out to Charles Taylor and moved to the Ivory Coast. Reports say that she originally backed Taylor'sd rebellion but later fell out with him.
During her time in the Ivory Coast she established, in Abidjan, Kormah Development and Investment Corporation, a venture capital vehicle for African entrepreneurs, and Measuagoon, a Liberian community development NGO.
She returned to Liberia after the ousting of warlord Taylor and entered the transitional government.
In 2005, she successfully ran for president and was inaugurated as president of Liberia on January 16, 2006, as President of Liberia.
Johnson-Sirleaf's career was marked by her determination to fight for freedom, justice and equality in Liberia.
She was elected at a time where years of civil war had left Liberia in ruins, with the civil war killing 300,000 of its 3 million people while thousands were left displaced, and an estimated 75% of women had been raped and unemployment had rose to 85%.
Johnson-Sirleaf worked hard at strengthening the country's institutions, promoting good governance, and revitalised both the economy infrastructure-building.
In 2010, Newsweek magazine listed Johnson Sirleaf as one of the ten best leaders in the world, The Times placed her among the top ten female leaders, and The Economist called her "the best President the country has ever had."
The international praises came just a year after Liberia's Truth and Reconciliation Commission recommended that she be barred from holding public office for 30 years for her role in backing Mr Taylor, who is currently on trial for war crimes in The Hague.
The president has however ignored the ruling but has apologised for backing Mr Taylor.
Ellen Johnson-Sirleaf has incontestably done a lot for her country and has throughout fought for better rights and freedoms, however, she backed Taylor, a man responsible for years of sufferance and trauma, ignored the Liberia's Truth and Reconciliation Commission ruling and is once again running for president despite promising she would only do one term earlier on, leading critics to wonder if access to power can distort the objectives of even the most engaged and determined leaders.