Vertu has revealed its new Ti smartphone which runs the Android operating system, has a sapphire screen and costs €7,900 (£6,780)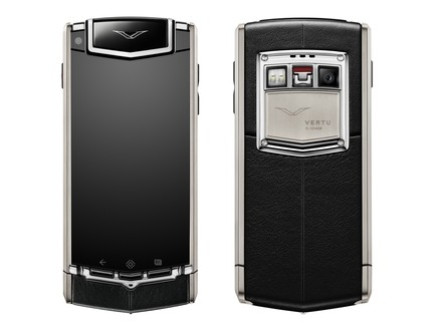 The Vertu Ti, developed at Vertu's headquarters in Chruch Crookham, Hampshire has a titanium frame and a 3.7in screen made of sapphire. Each device is built by hand, with the signature of the person who assembled it inscribed by lasers on the inside lid of the SIM card cover.
The Verti Ti is also heavier than a lot of popular smartphones, weighing 180g, compared to the 118g Samsung Galaxy S3 and 112g iPhone 5. It also features a "concierge" button which connects Vertu owners to a customer support team which can provide information on local events and places and organise restaurant and spa bookings.
Speaking to the BBC, Vertu chief executive Perry Oosting explained why the company had chosen the Android operating system over Windows:
"You need to be part of an ecosystem," he said. "Your device will have to integrate with other devices. I think the Windows phone will have success but it is still a relatively small market share. At the moment it doesn't have the global reach of Android - which is about 60 percent of the market."
However, the Vertu Ti only uses Android version 4.0 (Ice Cream Sandwich), an older iteration of the operating system. Current generation Android phones uses version 4.2 (Jelly Bean).
Bleeding edge
Also speaking to the BBC, Vertu head of design Hutch Hutchinson said: "Vertu will never be at the bleeding edge of technology. It has to be about relevant technology and craftsmanship - it's not a disposable product."
Vertu phones can only be purchased at 500 retailers throughout the world, 70 of which are owned by Vertu itself. The company has just 326,000 customers globally after being in business since 1998.
The Vertu brand was established by Nokia, but as part of cost-cutting plans, the Finnish company sold off the luxury brand to private equity group EQT VI in October 2012. The deal was estimated to be worth around £130 million with Nokia retaining a 10 percent share in the company.
Vertu is not the only provider of premium smartphones. Watchmaker Tag Heuer has its Racer phone which costs £2,300 and Swiss manufacturer Goldvish offers its gold decorated Equilibrium handset for between £4,300 and £70,000.
At the other end of the smartphone specturm, the former owner of Vertu has announced an expansion of its budget Asha range of 'smartphones'. The Asha 310, which launched today features a 3in touch display and 2 megapixel camera.
It will go on sale in stores across Africa, Brazil, the Middle East and Asia during the first quarter of 2013, costing just £65.