While the Nokia Lumia 1520 may feature some cutting-edge technology, one analyst says it shows some of the problems Microsoft needs to address to make a success of the Windows Phone platform.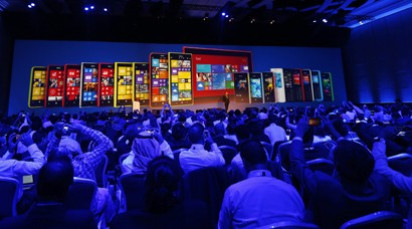 Nokia has just held what is likely to be its last ever major product launch before it is subsumed into the Microsoft firmament. It has revealed two new Lumia smartphones as well as its first ever tablet.
The 6in Lumia 1520 joins the ever growing range of 'phablet' devices - which sit somewhere between smartphones and tablets - and it is the first Windows Phone device to feature a quad-core processor and the first to feature a Full HD screen.
However, rather than highlighting that Windows Phone devices feature the same cutting-edge technology as premium Android smartphones, the Lumia 1520 only serves to highlight the problems Microsoft is facing, according to Ian Fogg, director of mobile analysis at IHS.
Fogg points out that these "cutting-edge" features have been available on Android smartphones since the beginning of the year: "The opposition is getting new capabilities quicker than Windows Phone."
Innovation lost
As an example of the work Microsoft and Nokia still have to do in order to compete, Fogg points to the cameras on the Lumia 1020 and on the new Lumia 1520. In both cases, the camera automatically takes two photos, one high resolution and one lower resolution for sharing.
However unlike Android smartphones which also take high resolution images, there is no way of editing or sharing the high resolution image on Nokia's smartphones, you need to connect the phone to your PC and transfer the image in order to access it.
"That's an example of something where Nokia has innovated but it's been held back by Microsoft's Windows Phone software."
Acquisition
The £4.6bn deal to purchase Nokia's smart devices business is likely to be completed in early 2014 but this in itself could lead to problems:
"I think both Nokia and Microsoft have a lot of work to do to establish Windows Phone as a successful platform in the market. The risk with the acquisition is that both companies become distracted by reorganisation and logistics of merging two organisations rather than competing in the market."
As well as launching the premium Lumia 1520, Nokia also launched the mid-range Lumia 1320, which also features a 6in screen but is half the price. While Fogg believes that it is a very "compelling price/design experience" he believes that Nokia is "slightly pulling its punches by staggering the launch and launching it later than the [Lumia] 1520 in 2014 rather than this quarter, and initially only launching in only two Asian markets, China and Vietnam."
Caught up
Fogg says that by the time it arrives in Europe and some of the more established markets, the competition will have caught up. He adds that had Nokia been able to launch the phone globally before the end of the year "it would do very well" but Nokia "is not being as aggressive as it could be" with the Lumia 1320.
Windows Phone as a platform has struggled to compete with Apple and Google in terms of providing a rounded eco-system of apps to choose from, with Nokia pointing the finger directly at Microsfot earlier this year for not doing enough to push the platform forward.
Consolidating the hardware and software sides of the Lumia and Windows Phone businesses should mean this will improve, but as Fogg points out, this is far from a foregone conclusion:
"It should help speed up [the process of supporting new features] but [Microsoft] has already said the bulk of the device business and everything else will [be] run out of Finland. Of course Microsoft software teams are in Redmond and there is a 10 hour time difference between them, and that makes collaboration practically quite tricky."