Key Features:
6in display with 1080 x 1920 resolution
Quad-core processor with 2GB RAM
20-megapixel camera with optical image stabilisation
32GB storage, plus microSD card slot
Nokia Lumia 1520 Review
One look at the Lumia 1520's spec sheet and it's plain to see why some consider this the best Windows Phone 8 device on the market. The Ful -HD screen (a first for Nokia and Windows Phone) is gorgeous, the Snapdragon 800 processor is lightening-fast, the PureView camera isn't far behind the class-leading Lumia 1020, there's 32GB of storage and a microSD card slot for more, and Nokia's build quality is second to none.
But the phone isn't without its problems. Despite the recent 8.1 update, Windows Phone is still some way behind iOS and Android in terms of app selection and general functionality, and the sheer size of the Lumia 1520 will cause some consumers to dismiss it immediately.
I've spent a week with the Lumia 1520 to see if Microsoft and Nokia have upped Windows Phone's game enough to turn it from the also-ran operating system into a genuine third choice - and to find out if you can realistically live with a phone that thinks it's a tablet.
Lumia 1520: Design and Hardware
The Lumia 1520 is a beautifully-made smartphone, and while the screen can't help but dominate proceedings, the matte white finish of my review unit makes an interesting alternative to the glossy feel of most recent Nokias.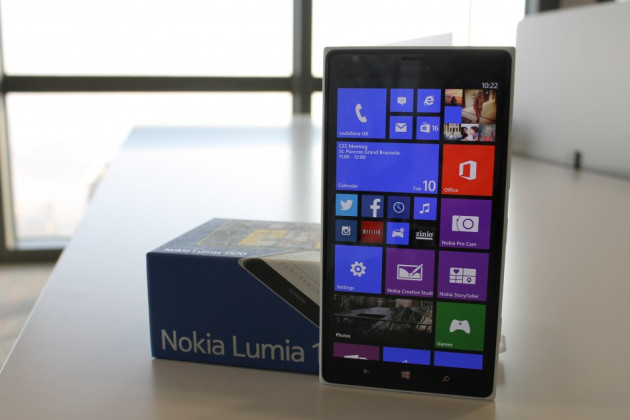 There's a real sense of quality here, from the stunning display to the solid build quality, it's a tour de force in how to build a gadget - perhaps not a smartphone, given its size, but a smartsomething. It looks great, feels great and performs brilliantly - and yet its size remains impractical.
The 1520's button and port layout is the same as most recent Lumias; microUSB at the bottom, camera, power and volume on the right, a headphone jack at the top, and ports for your microSD card and nano SIM on the left.
Being halfway up the phone's side, the screen unlock button is within reach, but from there I found using the phone one-handed all but impossible without balancing it precariously and edging it up and down my palm.
The non-removable rear cover houses a speaker, 20-megapixel camera and a dual LED flash.
Lumia 1520: Screen
It may be too big for use as a phone and too small to offer any benefits of a tablet, but the Lumia 1520's screen quality is superb. Icons are sharp and crisp, text is smooth, colours are bright and bold without being artificial, and it's bright enough to combat the glare and reflections of outdoor use.
I'll speak more of the phone's size in the verdict below, but on quality alone the 1520 has possibly the best smartphone display on the market.
Lumia 1520: Software
A year since launch, Windows Phone 8 recently underwent its first major update with 8.1. The Lumia 1520 is something of a showcase product for 8.1, featuring the 1080p screen resolution and Snapdragon 800 compatibility, both features ushered in by the update.
As always, the WP8 interface is slick and responsive, but performance varies between applications. Facebook is slow to open and refresh, every action takes a second too long, and the news feed insists on refreshing every time you navigate to it from elsewhere in the app.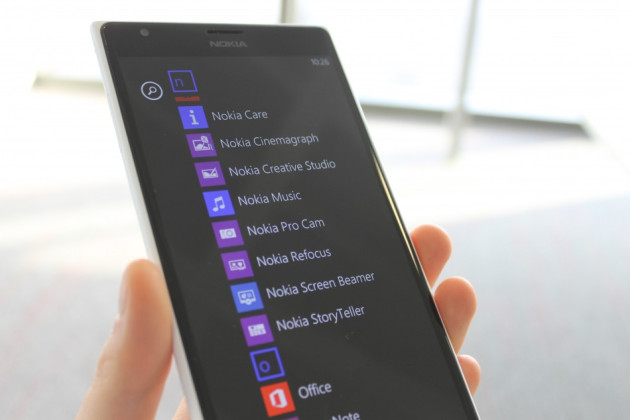 Opening some applications produces the 'resuming...' loading screen, but thankfully this is a less regular occurrence compared to Lumias of old.
Windows Phone 8 is fun to use simply because it's so different to iOS and Android, but what still lets it down is the lack of a notification centre and quick access to settings like Wi-Fi and screen brightness.
Third-party apps can be installed to help overcome the latter, but it's frustrating when a £550 smartphone doesn't have a quick way to adjust its screen.
Another annoyance of WP8 is its status bar at the top of the screen. The time and battery life are constantly displayed on the right, but the Wi-Fi, Bluetooth and signal strength all require a downward swipe to make them appear for a few seconds.
As for the Windows Phone store, the situation has improved from a year ago. Most major titles are there, from Facebook, Twitter and Instagram, to Angry Birds, Temple Run and a variety of games from Electronic Arts. A great feature of WP8 is that paid-for games can be tried before you pay for them.
Lumia 1520: Performance and Battery Life
Sharing its Snapdragon 800 processor with high-end competition like the Samsung Galaxy S4, the Lumia 1520's performance is as good as any Android rival, making it the fastest and most responsive Windows Phone 8 device I've ever used.
Thanks to both the hardware and Microsoft's improvements with Windows Phone 8.1, applications open quickly - although the aforementioned 'resuming' page still appears on occasion - and multitasking between open apps happens as quickly as you can tap at the screen.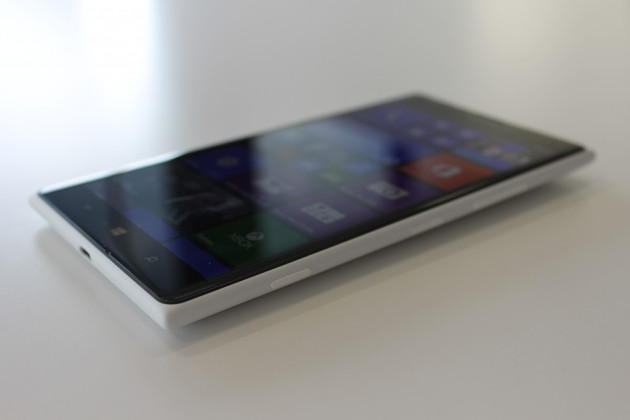 Intensive games like Asphalt 8 and Mirror's Edge open quickly and play perfectly, but I noticed the phone heating up after a few minutes' use, particularly near the camera.
On one occasion, the phone slowed down to the point of being unusable; I was switching between camera applications at the time, and the only fix was a reboot. Once back on, the phone worked perfectly once more.
Finally, battery life is what we've come to expect from a high-end smartphone - it'll do a full day, but not much more. Given the size of the screen and power of the processor, this shouldn't come as a surprise.
Lumia 1520: Camera
Not quite on a par with the Lumia 1020's 41 megapixel camera, the 1520 has a 20 megapixel sensor which shoots images at both 19 and five megapixels; the latter being an ideal size for sharing via email and Facebook.
Confusingly, the 1520 has two camera applications - the regular WP8 camera app, and Nokia's own Pro Cam. Both act in basically the same way (albeit with different user interfaces), but only the Pro Cam app can take 19-megapixel images.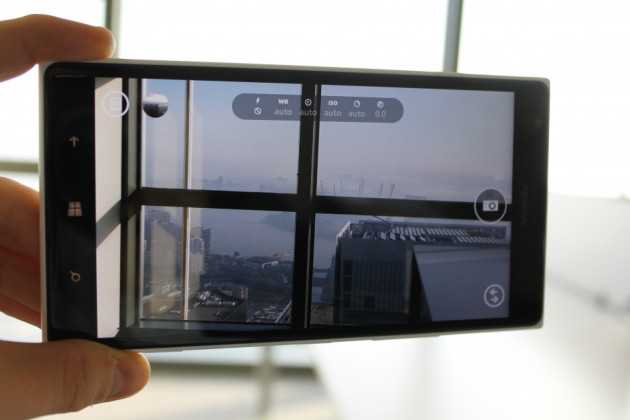 Because of this, Nokia's own app is also considerably slower to operate than the standard WP8 app.
The camera's most impressive feature is the Refocus lens, which lets you select the bit of a photo you want to be in focus after you've taken it, creating greater depths of field than smartphones can normally achieve.
But taking photos with the 1520 is confusing. Not because of any complicated camera settings - they're in place and keen photographers will make good use of them - but at a simpler level, the way in which the apps are designed is confusing; I don't want multiple camera apps.
No one has yet found the perfect solution for the smartphone camera, so until they do we'll continue to see masses of innovation, but little in the way of user-friendly simplicity.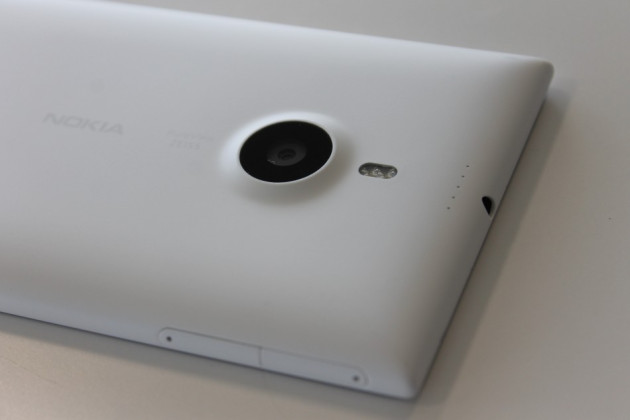 As for photo quality, the ones I took were mostly excellent; low-light shots benefit from optical image stabilisation, while those taken in daylight have natural tones with good contrast and white balance, even when everything is left in automatic.
Nokia is at the top of the smartphone camera league, but only if speed isn't of the essence - an iPhone 5s will run rings around the 1520 with its ability to shoot photos as quickly as you can tap the screen. But, importantly, the 1520 isn't a one-trick pony like the Lumia 1020.
Lumia 1520: Verdict
I've been scratching my head over this review for days now and just can't make up my mind. I love the Lumia 1520 as an object, as a piece of technology and an example of cutting-edge engineering.
Its build quality is superb, the screen is the best I've ever seen on any smartphone, the operating system is the best version of Windows Phone to date; games play beautifully, HD video looks amazing, and I can't help picking the phone up and holding it at every opportunity.
But this isn't enough. Phones aren't meant to be this big and I couldn't help but feel like a fool when using it in public. Perhaps that says more about me than the phone, but I can't be alone here. Here it is with an iPad mini for comparison: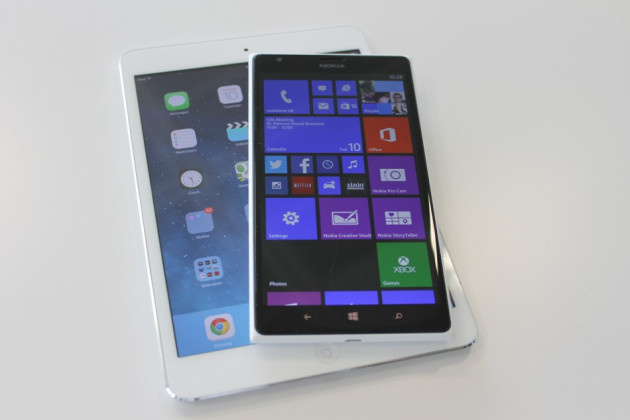 I have a phone for calling people, Googling things to stop arguments in the pub and for social networking on-the-go, then I have a tablet for watching video and browsing on the sofa. I don't want a device that tries to do both, because while this sounds appealing at first, you soon grow to hate how big a phone and how small a tablet it is.
When ordering parts for this phone, Nokia ticked the 'best' and 'biggest' boxes for everything, and while that works on paper, it doesn't translate into the real world.
The Lumia 1520 is beautiful but ultimately flawed; an item to lust after, not to live with.
Scores:
Screen: 10/10 - Ignoring size, this is the best smartphone display I've ever seen
Camera: 9/10 - Also excellent, but a point lost for unnecessarily confusing software
Software: 7/10 - Getting there, but a year on and Windows Phone is still missing some key features
Design and Build Quality: 9/10 - Superb, only let down because it's size makes it impossible to use with one hand
Overall: If you want a 6in phone, it's eight, maybe even nine out of 10. If you don't want a 6in phone, no number here will convince you otherwise.
The Good:
Very good design with high build quality
The Bad:
Windows Phone 8 still missing some key features
Camera applications can be confusing