Those who aspire to host their own cooking show, but do not know who to approach, do not fret as help is at hand. YouTube co-founder Steve Chen's new startup will give all aspiring chefs the opportunity to show off their perfectly prepared and captured plate of lemon butter pasta with capers and artichokes to the world.
Yes. Chen has launched Nom, a live, interactive video community and app that lets professional and amateur chefs showcase their culinary skills, by hosting their own food show. It also allows hosts to communicate directly with their audiences via a no-delay, two-way video chat so that viewers can watch, learn and interact with their "favourite chefs, brewmasters, grillmasters, baristas or bloggers".
"Nom is a place for food lovers," Chen said in a statement. "If you've ever snapped a picture of your dinner, Nom is for you. If you have a food blog and want to connect with a bigger audience, Nom is for you. If a restaurant kitchen is your office, Nom is for you."
Former engineering lead for YouTube, Vijay Karunamurthy, is the co-founder and CEO of Nom, while Chen is the chief technical officer. Dubbed "Twitch for food", Nom is tapping into the growing popularity of live video streaming in the tech world and one of the mainstay genres of digital media – food. Although the live video sector is filled with giants including Twitter, Facebook and Snapchat who recently edged out live video streaming pioneer Meerkat, Nom hopes to set itself apart with its rich, key interactive features.
The platform offers viewers the ability to share GIFs, videos and photos with hosts. On the other hand, a host can use multiple cameras to capture and broadcast their show if they want to switch between close up shots of their culinary creations and themselves.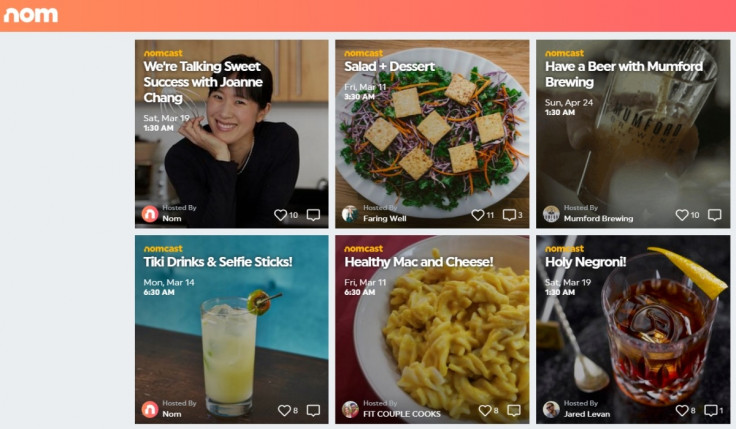 "We put you as close as you could possibly be with a chef," said Chen. "You are right there, receiving the live feed of the chef talking in his kitchen. Chefs love to have that control and power to control the message they want to deliver."
So far, Nom has recruited a battalion of well-known names in the food industry including three star Michelin chef Corey Lee, who is also an investor, master sommelier Yoon Ha of Benu in San Francisco, Tim Hollingsworth of Otium in Los Angeles, pastry chef Joanne Chang, Hubert Keller in Las Vegas and Michael Tusk of Quince in San Francisco. The company also plans to broadcast online foodie events including the upcoming announcement of the 2016 James Beard Award nominees on their Nom channel.
Whether Nom succeeds in the space will depend largely on its ability to build an interactive and consistent foodie community. Karunamurthy told Business Insider that Nom is not focused on making money right away, but will probably rely on some form of advertising in the future.
The startup has already raised $4.7m (£3.3m) in Series A funding from Blue Run Ventures, WI Harper Group, SV Angel, Khosla Ventures as well as Gangnam Style's Psy, actor Jared Leto and American restauranteur Ming Tsai.
Nom will be demonstrated at a featured talk at SXSW on 14 March. It is currently available on iOS and on the Web.