Non-Opec members agree to cut oil production to ease oversupply
Group of 11 states including Russia and Mexico to slash output by 558,000 barrels per day from 1 January.
Eleven oil exporting nations that are not part of the Organisation of the Petroleum Exporting Countries (Opec) cartel have agreed to freeze production to boost prices.
The group of states, which include Azerbaijan, Bahrain, Malaysia, Mexico and Russia, will reduce output by 558,000 barrels per day for six months starting from 1 January.
The announcement came following a meeting of Opec and non-Opec ministers in Vienna on 10 December.
It is the first time in 15 years that the two sides have signed a global oil pact.
Opec countries had already agreed to limit production by 1.2 million barrels per day on 30 November.
Saudi Energy Minister Khalid al-Falih called the deal "historic" and said Riyadh was prepared to cut back production more if necessary to ease oversupply and boost depressed prices.
"I can tell you with absolute certainty that effective January 1 we're going to cut and cut substantially to be below the level that we have committed to on November 30," he was quoted as saying by Bloomberg.
Russia, the second biggest exporter of crude, has pledged to cut output by 300,000 barrels per day, while Mexico will reduce production by 100,000 barrels.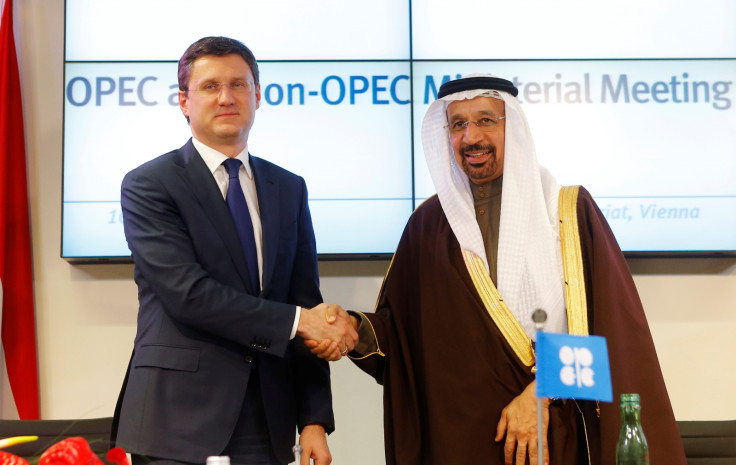 "Today's deal will speed up the oil market stabilization, reduce volatility, attract new investments," Russian Energy Minister Alexander Novak was quoted as saying by Reuters.
The 11 non-Opec countries taking part in the production freeze are Azerbaijan, Bahrain, Brunei, Equatorial Guinea, Kazakhstan, Malaysia, Mexico, Oman, Russia, Sudan and South Sudan.
"The intent by all those who participated is to contribute to drawing down oil inventories that are excessive," Al-Falih was quoted as saying by the Associated Press.
"And whether the reduction in that over-supply comes from deliberate intervention — like it is the case in Saudi Arabia — or by simply managing the decline in a way that makes them meet this agreement is left to the countries themselves."
© Copyright IBTimes 2023. All rights reserved.