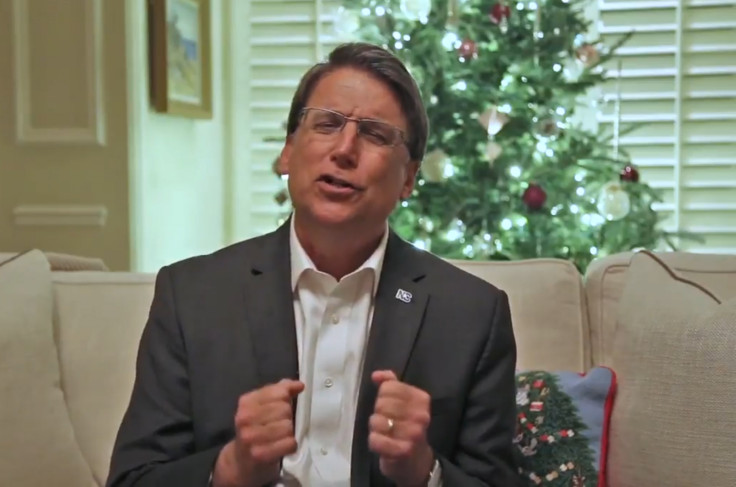 North Carolina Governor Pat McCrory conceded defeat on Monday (5 December) to Democrat Roy Cooper and announced he will support the transition. McCrory announced his concession in a video message released as a recount effort in Durham County began to wrap up.
"Despite continued questions that should be answered regarding the voting process, I personally believe that the majority of our citizens have spoken, and we now should do everything we can to support the 75th governor of North Carolina, Roy Cooper," McCrory said in the video. "The McCrory administration team will assist in every way to help the new administration make a smooth transition."
Dozens of election complaints filed by Republicans prompted the delay in McCrory's concession. Many of those complaints were dismissed by the Republican-controlled county election boards. According to the News and Observer, Durham officials planned to finish the recount on 5 December but early recount results revealed virtually no changes to the vote tally.
McCrory, who refused to concede the election for nearly a month, added: "It's time to celebrate our democratic process and respect what I see to be the ultimate outcome of the closest North Carolina governor's race in modern history."
He is the Tar Heel State's first governor to lose a re-election bid since a 1970s constitutional amendment allowed governors to seek more than one term, the News and Observer reported. McCrory's term in office was subjected to nationwide criticism after he signed legislation that curbed anti-discrimination protections for LGBT people, the New York Times reported.
Cooper, the state's attorney general, lead McCrory by 10,263 votes in the nearly final election tallies on the State Board of Elections website. He released a statement following McCrory's concession, saying it will be "the honour of my life" to serve as governor.
"I want to thank Gov McCrory and our First Lady, Ann McCrory, for their service to our state," Cooper wrote. "Kristen and I look forward to working with them and their staff in what I expect will be a smooth transition. I'm proud to have received the support from so many who believe that we can come together to make a North Carolina that works for everyone ... While this was a divisive election season, I know still that there is more that unites us than divides us."
The incoming governor plans to hold a "victory rally" on Tuesday (6 December) night in Raleigh at North Carolina State's McKimmon Center.