Jill Stein challenges 'credibility' of election results outside Trump Tower
Green Party leader challenges Trump to drop court cases as Michigan judge OKs by-hand recount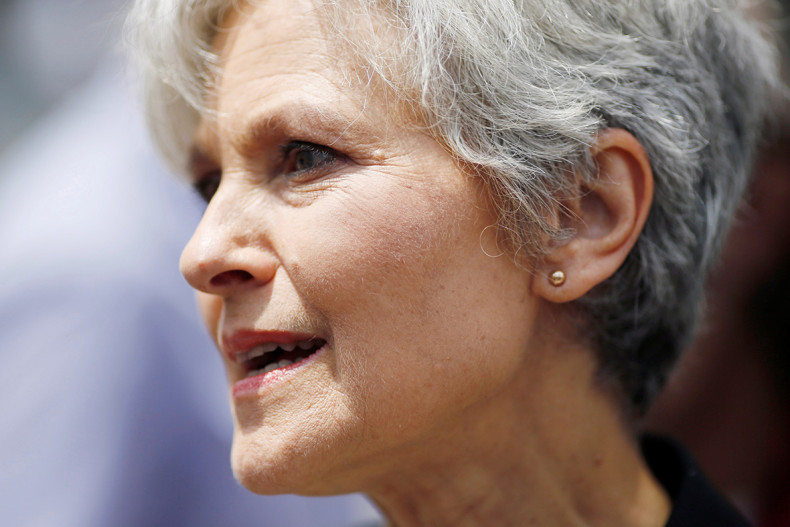 On a cold New York sidewalk outside Trump Tower, Green Party leader Jill Stein challenged President-elect Donald Trump to stop attempts to block her vote recount campaign in three states if he believes in the "credibility" of his victory.
"If you believe in democracy and the credibility of your victory, put down your arms," said Stein, who held a rally outside Trump's transition headquarters Monday (5 December). "We are here to assure Donald Trump that there is nothing to be afraid of," she said, adding that she will not "give in to intimidation or legal manoeuvring."
The president-elect's legal team filed a request for 27,000 written affidavits in 97 precincts in Pennsylvania last week. So Stein announced Sunday (4 December) that she would mount a lawsuit in federal court to sue for a recount there. She abandoned her case in the state's court system Saturday.
At her rally, Stein called Trump's request for affidavits "bureaucratic obstruction". Trump has launched court action against her recounts in Wisconsin and Michigan too.
Stein cited the fact that 75,000 votes in Pennsylvania did not select a presidential candidate as reason for suspicion about the accuracy of the vote there. She said that these blank votes were up 70% on previous years. "These blank votes vastly exceed the margin of difference between the two leading candidates," she said. "It's important that a miscount not be contributing to an erroneous outcome." Trump beat Democrat Hillary Clinton in the state by about 46,700 votes.
Stein launched her campaign after cybersecurity experts, attorneys, and statisticians raised concerns about the three states following high profile hacks and attempts on the US election system this year. Officials in all three states have all said that they have not found any evidence to suggest tampering in any of the votes.
Whether a recount in any of the three states would actually change the vote was unknown and that overturning the election is not her intent, Stein said. The outcome of the recounts, she added, "will be that we have an accurate, secure and fair voting system".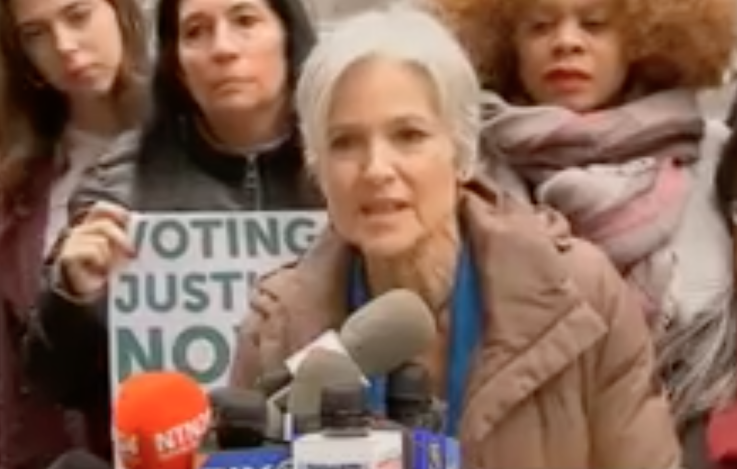 Jill Stein holds a press conference outside Trump Tower in New York, 5 December 2016.
Screenshot/YouTube
So far $6.8m has been raised for the vote recount effort. Trump has claimed that cash will go directly into the pockets of the Green Party and that the recount is a "scam" to raise money. Stein assured that the money is going to a "dedicated recount account" and "cannot be spent for any other purpose other than the recount". Fighting legal battles on multiple fronts means that there will be no money left over from the fund, she said.
Early Monday a Michigan judge dismissed petitions from Trump's lawyers, who called Stein a "bottom-dwelling candidate", and the state's Republican attorney general, to block the recount there. Trump's lawyers argued that because Stein didn't get more than 1% of the vote she was not "aggrieved" enough to request it.
US District Judge Mark Goldsmith said the recount represented "the right to vote, and to have that vote conducted fairly and counted accurately." The Michigan recount is being conducted by hand and set to begin at noon Monday. Stein is currently suing for a by-hand recount in Wisconsin.