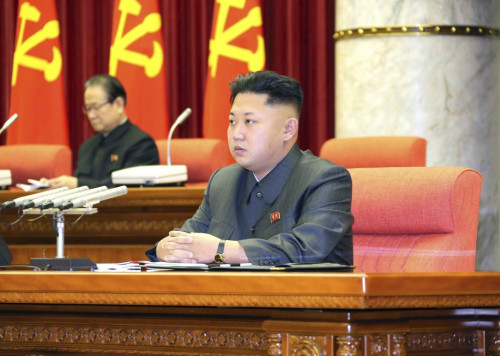 North Korea, officially the Democratic People's Republic of Korea (DPRK), has called for an end to hostilities with South Korea, according to news agency Xinhua.
North Korea urged immediate practical measures to impede a "nuclear disaster".
The National Defense Commission (NDC) of DPRK drafted a three-point proposal to South Korea, calling for practical measures to halt "all acts of provoking and slandering the other side" and "all hostile military acts"
According to NDC, the inter-Korean tensions could dissipate if the two sides make concrete efforts to implement the proposal.
"It is high time to terminate the vicious circle between the same nation and make amiable atmosphere," said the proposal.
The NDC also urged South Korea to abandon joint military exercises with the US, "stopping all acts provoking the other side on the ground and in the sea and air including five islands in the West Sea."
Both South Korea and the US did not react positively to the proposal.
South Korea expressed regrets over the DPRK's appeal, urging Pyongyang to take "real action" to denuclearise the Korean Peninsula.
"It is very regrettable for North Korea to distort facts and mislead public opinion while making ridiculous claims," Unification Ministry spokesman Kim Eui-do told reporters at a regular press briefing
South Korea claimed that the joint military drills with the US are of defensive nature, but the DPRK denounced them as rehearsals for a northward invasion.
The committee warned of an "unimaginable holocaust and disaster" and a crisis in inter-Korean ties if "the rehearsal for a nuclear invasion into the DPRK" carries on this year.
A spokesman for the Committee for the Peaceful Reunification of Korea (CPRK) said in a statement: "They should clearly understand that the north-south ties will plunge into a deadlock and unimaginable holocaust and that disaster will follow should they go ahead with the nuclear war drills and make military provocation."
Washington and its allies, Japan and South Korea, have urged Pyongyang to abandon its nuclear weapons.
"We'll continue to hold North Korea to these commitments and its international obligations," State Department spokeswoman Jennifer Psaki said, adding "we won't accept North Korea as a nuclear-armed state."
China on Thursday asked all parties to show restraint on the nuclear issue of the Korean Peninsula.
Chinese Foreign Ministry spokesman Hong Lei said that safeguarding peace and stability on the Korean Peninsula is the duty of all sides and is in line with their common interests.