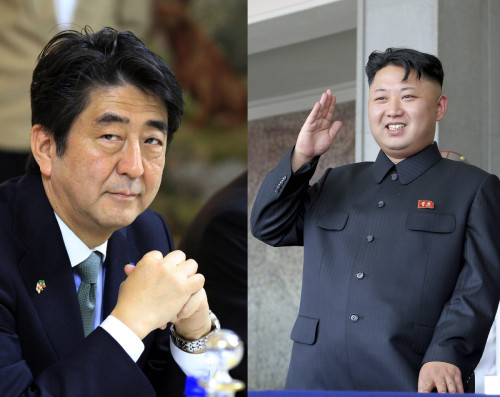 North Korea has labelled Japan's Prime Minister Shinzo Abe as the "Asian Hitler" over his recent controversial political activities and remarks alongside Tokyo's increasing military moves in the region.
Pyongyang's state-run Korean Central News Agency has run an editorial entitled "Is this the emergence of an Asian Hitler?" pouring scorn on the Japanese leader.
"There is no difference between the fascist maniac Hitler, who waged battle against communists to justify another war, and the reckless Abe who is using confrontation with North Korea to justify Japan's new militarist ambitions," says the editorial.
Abe had visited the contentious Yasukuni war shrine, the place which also honours some of the high-profile Japanese officials, who were executed for war crimes during World War II.
His visit had enraged Japan's neighbours who criticised it as an aggression on the part of Abe.
The North Korean official mouthpiece said: "The latest reckless behaviour that has stirred the region is reminiscent of Hitler, who worked so hard to encourage war in [post-World-War-II] Germany."
North Korea often chides Japan over its occupation of the Korean peninsula during the World War era while remnants of the conflict could also be witnessed in the territorial disputes prevailing in the region.
The latest North Korean remarks have also come in the wake of its leader Kim Jong-un's nomination to run for a seat in the rubber-stamp parliament, the Supreme People's Assembly (SPA).
The move is widely seen as Kim's reiteration of sealing the power in North Korea. It is also being closely watched for any significant changes in the power centre of the Communist regime.
"[Kim] was nominated as a candidate for deputy to the 13th Supreme People's Assembly in reflection of the unanimous desire and absolute trust of all the service personnel in him," said the KCNA in a separate statement.
The upcoming elections, largely uncontested, during early March will also provide Kim with an opportunity to evict loyalists of his executed uncle Jang Song-thaek.