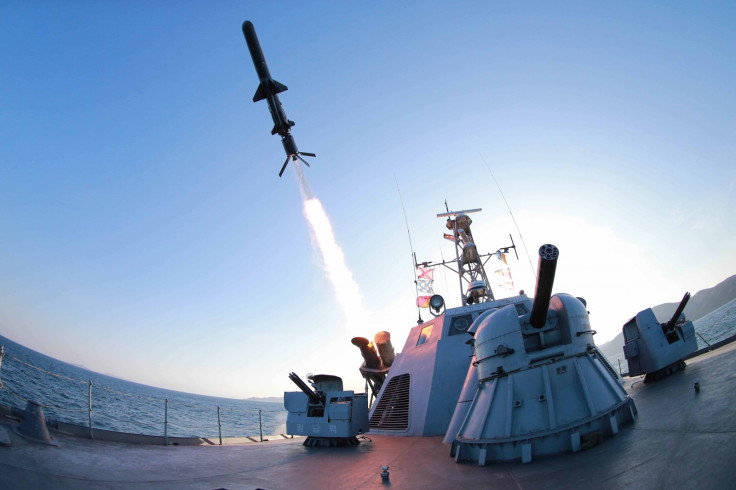 North Korea has claimed that it has successfully miniaturised its nuclear weapons, which would allow them to be fired with missiles.
"It has been a long time since we began miniaturising and diversifying our means of nuclear strike," the National Defence Commission said, according to AFP which cited the Korean Central News Agency.
"We have also reached the stage where the highest accuracy rate is guaranteed not only for short- and medium-range missiles but long-range missiles as well. We don't hide this fact."
On 8 May, North Korea announced that it has successfully test-fired ballistic missiles from a submarine.
But experts and a senior US Navy admiral claimed that pictures showing North Korean leader Kim Jong-Un looking on as missiles are being fired are fake, and that the pariah state may still be years away from developing the technology.
Admiral James Winnefeld told an audience at the Centre for Strategic and International Studies (CSIS) in Washington that North Korea may still not have a ballistic missile capacity, and German aerospace engineers Markus Schiller and Robert Schmucker of Schmucker Technologie argued that on analysis, the pictures appeared to have been manipulated by state propagandists.
Under international conventions, North Korea is not permitted to test-fire missiles from submarines, and the US condemned the alleged tests.
In October 2014, Army General Curtis Scaparrotti, commander of US Forces Korea, told reporters that North Korea likely had the capacity to develop a miniaturised nuclear weapon.
"I think given their technological capabilities, the time that they [have] been working on this, that they probably have the capabilities to put this together," he said.