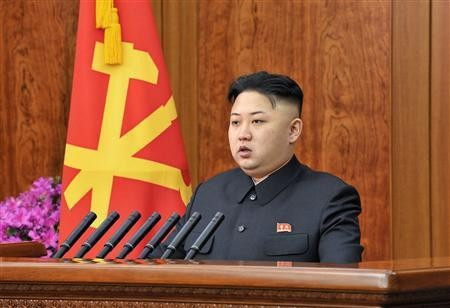 It is most difficult to judge the true measure of the threat currently posed by North Korea in its war of words plus limited action, with South Korea, Japan and the United States. Both sides having their fingers on the triggers, US Secretary of State John Kerry was in China, the North's only real major ally, on 13 April 2013 speaking to Chinese leaders including President Xi Jinping and top diplomat Yang Jiechi. All professed determination to resolve the tense situation caused by the ever strident and bellicose statements issued by or on behalf of the North's young and relatively inexperienced leader, Kim Jong Un. After the extensive talks held in Beijing, Yang Jiechi issued a statement giving a clear indication of China's continuing displeasure - and mounting frustration - with Kim Jong Un's belligerency saying:
"China is firmly committed to upholding peace and stability and advancing the denuclearisation process on the Korean peninsula," adding that the issues should be resolved "peacefully through dialogue".
For his part, Mr Kerry told the media that he is convinced that the Chinese are "very serious" about North Korea denuclearising and the United States will send the Chairman of the Joint Chiefs of Staff, Martin Dempsey, to visit Beijing later in April.
In recognition of China's special relationship with North Korea, Mr Kerry warned that China had to put "some teeth" into its deliberations with Pyongyang for it to alter its policies for the better - maybe hinting that Washington thinks that Beijing could be achieving more than it is presently doing.
On Sunday 14 April, Mr Kerry was in talks with his Japanese counterpart, Fumio Kishida, in Tokyo where he reassured America's Asian allies that the US would do everything to protect them by taking all measures necessary and so counter any North Korean threat. He did however, not close the door to commencing talks with the North Koreans, using an intermediary if necessary, if they are willing to give up nuclear weapons, saying:
"Our choice is to negotiate, our choice is to move to the table and find a way for the region to have peace."
Mr Kerry went on to state that upon North Korea denuclearising, America would be prepared to remove from the zone, some of its ultra high-tech capability like its two Aegis guided-missile destroyers and/or its Terminal High Altitude Area Defense (THAAD) missile defence system (from Guam).
Mr Kishida welcomed America's support and told the news conference:
"We agree that North Korea should cease provocative speech and behaviour and show it is taking concrete action toward denuclearisation...We cannot allow North Korea in any way to possess nuclear weapons."
It will come as no surprise to learn that the response from Pyongyang voiced nothing but contempt for all this diplomatic activity in Beijing and Tokyo by the US and presumably for the numerous statements seeking a peaceful and reasoned resolution issued by all three parties. On 14 April, the eve of celebrations for the 101st birthday of North Korea's founder Kim Il Sung and grandfather of Kim Jong Un, the North Korean news agency KCNA, issued a most unequivocal statement by the country's titular head of state, Kim Young Nam:
"We will expand in quantity our nuclear weapons capability, which is the treasure of a unified Korea".
To drive home the point, Mr Kim went on to say that such nuclear capability could never be bartered "at any price". For a country that is continually short of food and has lost untold tens of thousands because of famine in recent years, this must surely have been as much for the ears of Beijing as a warning to Washington as to how much the Government is willing to make its people suffer in order for it to achieve its nuclear goals.
A small example of just what life is like for the vast majority of North Korea's citizens was illustrated in a news item on 12 April 2013. Sky News reporter Stuart Ramsay in South Korea's capital, Seoul, interviewed North Korean defector Lee Hyeonseo who recently managed to escape with the rest of her family from one of the world's most isolated and repressive states. The family's journey was very difficult and dangerous and involved crossing China and Laos and requesting asylum from the South Korean Embassy in either Cambodia or Vietnam - Miss Lee did not say which. If they had been caught or returned, they would have faced execution; if she had gone alone and later been spotted in South Korea, her family would have been sent to a forced labour camp. Punishment for the slightest dissent is invariably meted out to the offender's children and grandchildren.
Miss Lee believes that the current crisis is all about the regime retaining its power in a land where food shortages, military paranoia and indoctrination of the people are the norms of everyday life. She told Sky News:
"He (Kim Jong-un) needs to do something to show the people that he is protecting our country. The people are told it was started by the US or other countries.
"This is good propaganda for him (and) that is why he is doing this - it is all absurd."
Eleventh April 2013 marked the first anniversary of Supreme Leader, Kim Jong Un's accession to First Secretary of the Workers' Party and to Chairman of the Central Military Commission, signalling his formal assumption of power. Despite some initial signs that he was willing to make changes for the better, including statements last year that North Korea could possibly take the path of China to greater prosperity, any hope of even a small part of this promise being fulfilled has been totally dashed since his threat on 07 March to pre-emptively strike the United States with thermonuclear war. Kim Jong Un's words and deeds since have shown no indication of the rhetoric getting any better in the near future and although it is highly unlikely that he will carry out his threat, America and its allies in the region have no choice but to assume a worst-case scenario.