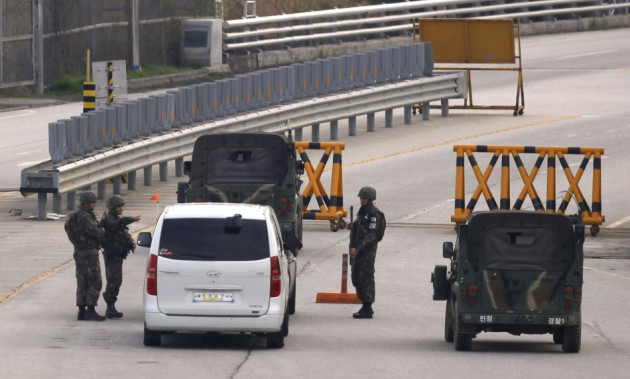 North and South Korea are to hold talks over the suspension of the Kaesong industrial zone, the vital economic link between the two countries, over the weekend indicating that the atmosphere in the Korean Peninsula has cooled down.
The proposal was first initiated by North Korea but South Korea had asked for a change of location for the high-level talks.
Top officials from both countries are likely to meet on Sunday at Freedom House in the South Korean zone of the jointly-run industrial park.
"The message sent by Unification Minister Ryoo Kihl-jae was addressed to Kim Yang-gon, head of the United Front Department of the ruling Workers' Party of Korea," said an official from the Ministry of Unification in Seoul, according to Yonhap news agency.
Three officials from South Korea will attend the talks, suggest reports.
"We asked for the change in venue to Panmunjom because this location requires less preparation time," the official added.
The plant was brought to a halt in early April following rising tensions in the Korean Peninsula over North Korea's nuclear test prompting a war of words and manoeuvres.
North Korea, which has been reeling under severe economic sanctions, largely relies on the key industrial zone to run its economy.
"We appreciate the fact that the south side promptly and positively responded to the proposal made by us for holding talks between the authorities of both sides," a North Korean spokesperson said.
However, it is unclear if the issue of "denuclearisation of North Korea" will be discussed at the talks.
When asked about the issue, South Korea's foreign ministry spokesperson Cho Tai-young said: "Denuclearisation of North Korea is a very important issue for us. North Korea must demonstrate its sincerity through actions to build conditions for a resumption of talks on denuclearisation."
Although the talks are not expected to provide a "breakthrough", they are likely to pave the way for further steps to ease tensions between the two countries.