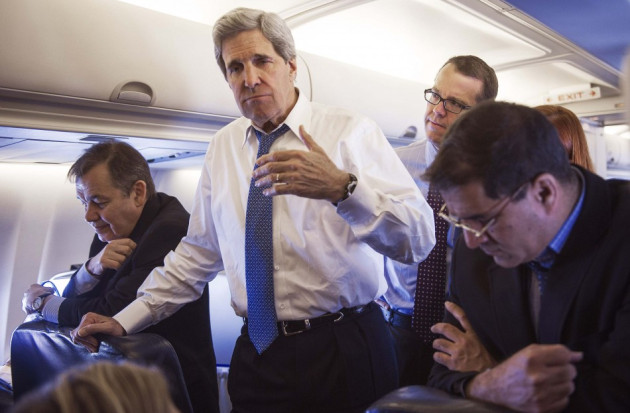 US Secretary of State John Kerry has arrived in the Chinese capital Beijing, where he will ask leaders to exert their influence on North Korea and urge it to stop its sabre-rattling as tension in the region continues to rise.
Kerry is on the second leg of his Asia tour, which follows a series of threats from Pyongyang against South Korea and the United States.
Kerry will meet Chinese President Xi Jinping and top officials, hoping that Beijing will be able to restrain its ally. China accounts for nearly 70 percent of North Korea's total trade.
Kerry insisted that the denuclearisation policy, shared by Beijing and Washington, should have more "teeth".
Speaking in Seoul, he observed: "I think it's clear to everybody in the world that no country in the world has as close a relationship or as significant an impact on [North Korea] than China."
He also warned North Korea: "If Kim Jong Un decides to launch a missile, whether it's across the Sea of Japan or some other direction, he will be choosing wilfully to ignore the entire international community. And it will be a provocation and unwanted act that will raise people's temperatures."
The Chinese foreign ministry said earlier this week that both the US and China will "exchange views on Sino-US relations, and on international and regional issues of common concern".
Experts believe Kerry's visit to China is well timed to allow the world's two largest economies to make progress on several vital issues, including tensions on the Korean Peninsula.
Shi Yinhong, Director of the Centre for American Studies at Renmin University, told the Beijing-based CCTV: "Chinese and American leaders need to have a face-to-face negotiation on the tensions on the Korean Peninsula. They should evaluate the current situation, discuss the measure they've already taken and offer their suggestions. China hopes the US will be restrained in its actions which may further aggravate the situation. I believe some concrete and substantial agreement will be worked out this time."
The US has officially denied that North Korea has the technology to mount nuclear bombs on ballistic missiles, contradicting a Pentagon intelligence document.
After his China visit, Kerry will head to Japan.