North Korea: Kim Jong-un Purged Uncle's Name 'Removed from KCNA Reports'
Ousted North Korean official becomes '1984 non-person' after removal from top post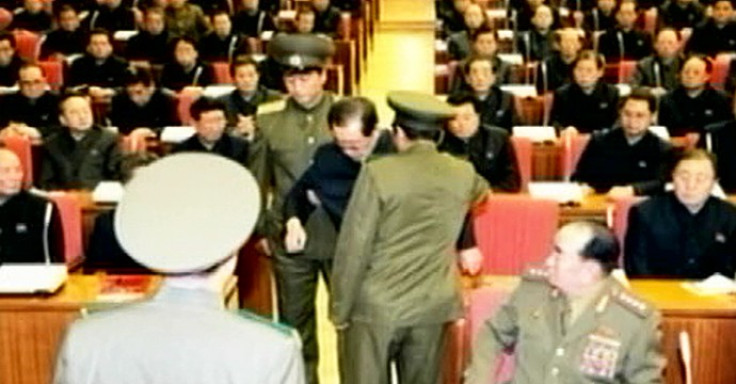 The powerful uncle of North Korea's Supreme Leader Kim Jong-un, who was removed for criminal acts that "baffled the imagination", has had his name removed from the official KCNA news agency database.
In a process reminiscent of George Orwell's 1984, Jang Song-thaek was ousted from the post of vice-chairman of the National Defence Commission and expelled from the ruling Workers' Party during a turbulent meeting of its politburo.
Jang, who is married to Kim Kyoung-hui, aunt of the Supreme Leader, is accused of mismanaging the economy, corruption, womanising and drug-taking.
"Jang and his followers committed criminal acts baffling the imagination and they did tremendous harm to our party and revolution," KCNA said.
"Jang pretended to uphold the party and leader but was engrossed in such factional acts as dreaming different dreams and involving himself in double-dealing behind the scene.
"Affected by the capitalist way of living, Jang committed irregularities and corruption and led a dissolute and depraved life."
"Ideologically sick and extremely idle and easy-going, he used drugs and squandered foreign currency at casinos while he was receiving medical treatment in a foreign country under the care of the party."
It is still not clear whether Jang had been detained or charged with any crime. A picture of him being marched out of a conference hall by uniformed guards was shown on North Korean state television. Kim Jong-un attended and "guided" the meeting, according to KCNA.
Images of Kim's uncle were erased from a propaganda film rebroadcast by the government and from other official pictures and video footage.
Kim's mentor
A Twitter account that monitors the activities of the KCNA noticed that a 2012 article about Jang had been modified.
Last week, an aide who managed funds for Jang allegedly escaped and sought asylum in South Korea. The escapee - who remains anonymous for fear of backlash - was said to be in a secret location in China, according to South Korea's cable news network YTN and Kyunghyang Shinmun newspaper.
If confirmed, the defection would be the most significant since 2002, when Kyong Won-ha, a nuclear scientist from the North, escaped.
Jang was long seen as the power behind the throne and a key policy adviser to the Supreme Leader. He was also regarded as Kim's mentor.
He solidified his position by dismantling the power structure put in place by Kim Jong-il before his death in 2011, according to reports.
In July 2012, the general removed two military officials who were appointed by the late North Korean leader. U Dong-chuk, first deputy director of the State Security Department, and army chief Ri Yong-ho were sacked by Jang seven months after Kim Jong-un became Supreme Leader.
South Korea's intelligence service said that two of Jang's close associates were executed in November for corruption.
© Copyright IBTimes 2023. All rights reserved.