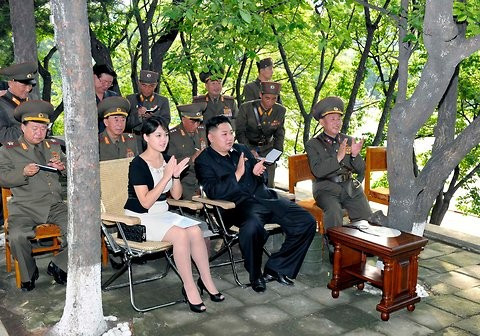 North Korean leader Kim Jong-un's wife Ri Sol-Ju is said to be pregnant with the couple's second child, suggests reports from the secretive nation as she had not been seen in public eyes for the last few weeks.
A close source in the clandestine North Korean government told the Daily NK, "After Ri Sol-Ju stopped appearing on Chosun Central TV and in Rodong Shinmun, where she had been appearing quite regularly up to then, the rumour that it is because she is pregnant started to spread really fast."
Unconfirmed reports suggested that the first couple of North Korea already has a child. The first child was thought to be born in 2009, a speculation which is widely accepted as a fact inside the country.
North's reigning leaders have always kept their personal life surreptitious and left the rest for the outside world's imagination.
"Sharp-eyed women had been mentioning a possible pregnancy every time she appeared on Chosun Central TV anyway, but in particular when they saw her visiting Changjeon Street homes in September they said 'The Marshal's wife seems to be pregnant with their second child'," added the North Korean source.
Recent photographs of the first lady released by the North's official news agency also indicate a somewhat-plump physique with a slightly protruding belly.
However, others suggest it is not possible either to confirm or to deny the speculation.