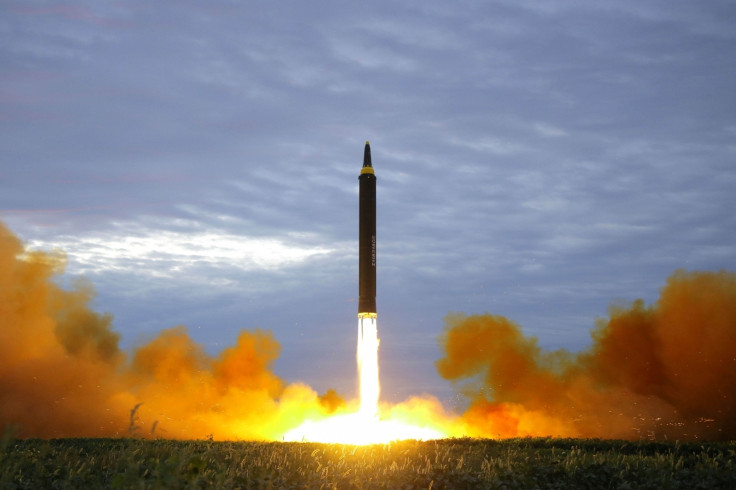 North Korea launched its latest ballistic missile at a regular angle but halved the strike range, according to the South Korean military. Seoul's defence ministry said it is too early to confirm whether the missile's atmospheric re-entry, a crucial stage for a long-range missile, was fully operational.
Pyongyang launched what is thought to be an intermediate-range ballistic missile, Hwasong-12, on Tuesday, 29 August, amid soaring tensions in the Korean peninsula. The projectile crossed over Japan and caused serious alarm in the region, with the UN Security Council scrambling to condemn the belligerent act.
Following the preliminary examination of the launch, the South Korean defence ministry submitted a report to the country's National Assembly on Thursday that said the halved strike of the recent missile was about 2,700km — meaning the full range could be between 4,500 and 5,000km.
"There's a possibility of strategic provocations, including additional ballistic missile launches and a sixth nuclear test. It appears to be intended to show off an improvement in the capability of nuclear warheads and delivery means," the ministry said in its report given to lawmakers.
Speaking about the North mastering the re-entry technology, Vice Defence Minister Suh Choo-suk said: "We have not reached a conclusion. Painstaking verification is necessary for this part." Many experts believe the reclusive Pyongyang regime has not yet mastered the re-entry capabilities necessary for an intercontinental ballistic missile (ICBM).
The North had launched more than a dozen missiles with various strike ranges in 2017 and despite strong global calls to scale down its weapons programmes, the country does not appear to heed to any of those.
The latest missile also forced US President Donald Trump to signal that a diplomatic solution alone may not be enough to solve the Korea crisis. "The US has been talking to North Korea, and paying them extortion money, for 25 years. Talking is not the answer," he tweeted.
However, the US defence secretary swiftly clarified that Washington never runs out of diplomat options in dealing with North Korea. Asked if the diplomatic doors are shut, James Mattis publicly disagreed with the president by saying: "No. We are never out of diplomatic solutions."