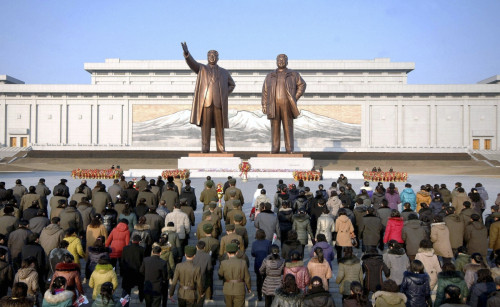 North Korea has marked the 72nd birthday of late leader Kim Jong-il with his son and present leader Kim Jong-un paying his respects.
According to the state-run Korean Central News Agency (KCNA), the younger Kim had paid a visit to the Kumsusan Palace of the Sun in the capital Pyongyang to mark the occasion, known as "The Day of the Shining Star" in North Korea.
The embalmed bodies of the former leaders of Kim's clan are kept in the palace.
The KCNA report said the reigning Kim paid floral tributes in front of his father's and grandfather's statues on behalf of the North Korean army.
"Kim Jong-un, together with other visitors, paid high tribute to the statues," said KCNA.
During the visit, Kim was flanked by key North Korean military chiefs including the head of General Political Bureau of the North Korean People's Army (KPA) Choe Ryong-hae and the chief of the General Staff of the KPA Ri Yong-gil.
"Everybody, let's rally around the party centre led by the great leader Kim Jong-Un and robustly fight... to complete the revolution!," said the ceremonial head of state Kim Yong-Nam evoking loud cheers and applause from the crowd.
Notably, Kim was not accompanied by his wife Ri Sol-ju unlike last year.
The day is one of the important occasions in North Korea and is often marked by elaborate celebrations. The present Kim took over from his father after the latter's sudden death in 2011.
Some of the key officials have also been promoted to mark the birthday anniversary. Kim Rak-Gyom, the commander of KPA's Strategic Rocket Force Command, which is responsible for North Korea's missile programmes, has been given the post of colonel general.
Dozens of other top officials have also been promoted.