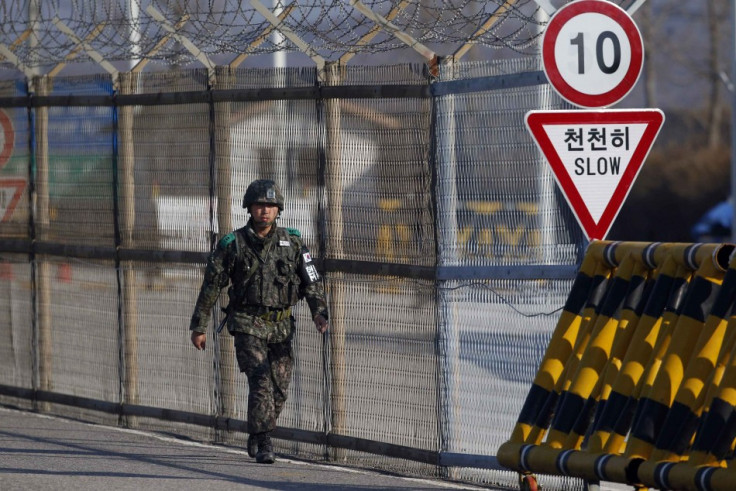 Officials in Seoul claim North Korea is planning to fire several short-range missiles across the border, in addition to the medium-range missiles which are thought to be ready for launch.
South Korea believes its northern neighbour has already mounted two medium-range Musudan missiles on mobile launchers, and government officials believe Pyongyang is also preparing an arsenal of shorter Nodong and Scud missiles.
Citing satellite images, the officials claim North Korea has moved up to six TELs (transporter-erector-launchers) which are believed to be the launch pads for short-range Scud missiles.
The missiles have a striking distance of about 300 to 500 km, enough to reach South Korea.
"There are clear signs that the North could simultaneously fire off Musudan, Scud and Nodong missiles," a Seoul official familiar with the matter told the Yonhap news agency on condition of anonymity.
Reports suggest that the Combined Forces Command has raised Watchcon 3, the normal defence status, by one level ahead of the feared missile launch.
"If the missile was in defence of the homeland, I would certainly recommend that action [intercepting it]. And if it was defence of our allies, I would recommend that action," Admiral Samuel Locklear, the commander of US forces in the Pacific region, told a Senate hearing in Washington.
South Korea, in collaboration with the US, has stepped up its surveillance to closely monitor North Korea's actions in the coming hours.
"Through close coordination with China and Russia, the Korean government has been continuing to make efforts to persuade North Korea to change its attitude," Seoul's Foreign Minister Yun Byung-se told lawmakers.
South Korea has already deployed two Aegis class destroyers equipped with missile interceptors on its eastern and western coasts.
In addition, Seoul has positioned its advanced ground-based radar system to track the latest developments in North Korea.
Japan has also moved several Patriot missiles in Tokyo in a bid to secure the capital from any attack from North Korea.