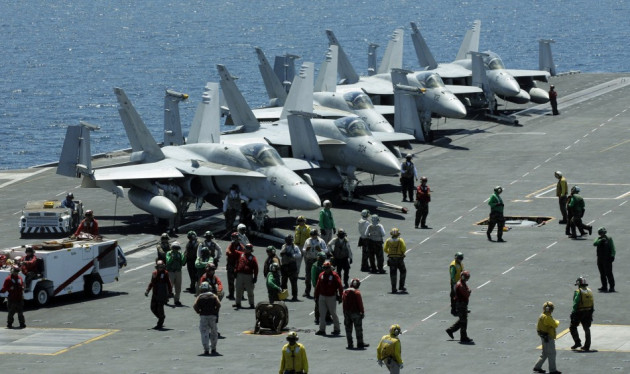 A US naval fleet led by the nuclear-powered aircraft carrier USS Nimitz is arriving in South Korea to take part in a joint US-South Korea drill amid simmering tensions on the Korean Peninsula. The Nimitz Strike Group comprises 64 aircraft and guided-missile destroyers.
Earlier joint exercises evoked a flurry of threats from Pyongyang and the latest move has the potential to aggravate the situation.
The naval drill follows a five-day anti-submarine exercise by South Korean and American forces in the Yellow Sea. North Korea had threatened to turn the archipelago in the region into a "sea of flames" if the forces attempt to violate the country's sovereignty.
The 97,000-tonne Nimitz, one of the world's largest ships, will anchor in the South Korean port city of Busan for three days.
"I believe it's critically important that we maintain our interoperability with our partners like the Republic of Korea [South Korea]," the chief of the naval fleet, Rear Admiral Mike White, told reporters.
"Any time we're in the region, we try to take advantage of opportunities to train with our partners. So this is not a response to any particular event but part of our continuous engagement, much like we shared for 60 years," said White, adding that the Nimitz is "on a scheduled deployment".
The naval drill is aimed at improving military readiness and interoperability of the two forces, said officials.
North Korea toned down its bellicose threats after the US and South Korea wrapped up their ground exercises last month. North Korea is believed to have withdrawn two medium-range missiles from its launch pads, which were stationed in its coastal region.