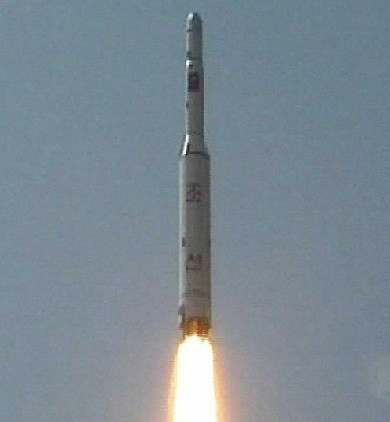 Two US officials secretly visited Pyongyang a week ahead of the North Korea's failed rocket launch in April, suggests a recent report.
The US officials flew in a US Air Force plane on a secret mission a few days ahead of 13 April in a last ditch attempt to stop the test.
The report in the newspaper the Chosunlibo quoted an unnamed diplomatic source from Seoul as saying: "At around 07:40 on 7 April, a US Air Force Boeing 737 entered North Korea. The aircraft flew from Guam and into North Korea along the same route on the West Sea used by former president Kim Dae-jung during his visit to the North back in 2000."
Reports suggest that the plane carried a nuclear negotiator at the time of Bush administration Joseph Di Trani and current National Security Council advisor to President Barack Obama Sydney Seiler. US authorities have refused to comment on the issue.
The United Nations strongly condemned North Korea's rocket launch on 13 April which was in breach of the ban on testing ballistic missile technology.
Sanctions were also tightened on the country, but North Korea persisted with its claim that it was only launching a weather satellite. The launch eventually proved a failure.
According to an AFP report, North Korea released a statement on Tuesday saying that the country had informed Washington about the launch several weeks ago allegedly referring to the diplomats' visit.
The statement also insisted that North Korea would bolster its nuclear deterrent and take necessary self-defence measures if the US does not stop its criticism over the rocket launch and its atomic programmes.