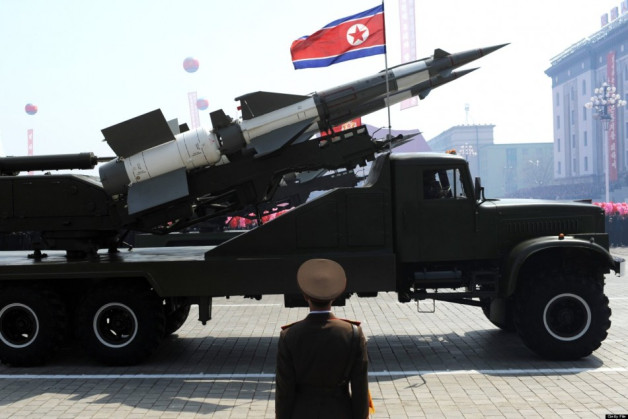 The Pentagon has postponed a planned intercontinental ballistic missile test in response to heightened tensions on the Korean peninsualar, saying the move could be misinterpreted by the government in Pyongyang.
Defense Secretary Chuck Hagel postponed the Minuteman 3 test at Vandenberg Air Force Base until next month due to concerns it "might be misconstrued by some as suggesting that we were intending to exacerbate the current crisis with North Korea", said a US defence official.
The US wanted to avoid any "miscalculation" that could result from the test, the official said, adding:
"We wanted to avoid that misperception or manipulation. We are committed to testing our ICBMs to ensure a safe, secure, effective nuclear arsenal."
The UN stepped up sanctions on North Korea in March after Pyongyang carried out a third nuclear test. Since then, North Korea has issued a series of threats of nuclear war against the US and South Korea.
In recent weeks, Pyongyang has threatened nuclear strikes on the US, formally declared war on the South, and pledged to reopen the Yangbon nuclear reactor in defiance of UN Security Council resolutions.
On Friday, North Korea said it could no longer guarantee the safety of embassy staff in the event of a war.
In response, South Korea today postponed a trip to Washington by its top military official, Gen Jung Seung-jo. The two sides had decided to reschedule the meeting "to maintain a firm defence readiness amid the current security situation", South Korea's Yonhap news agency reported.
The US stance was backed by British Foreign Secretary William Hague, who called for calm over the crisis, while warning Pyongyang to curb its "paranoid rhetoric".
"We have to be concerned about the danger of miscalculation by the North Korean regime, which has worked itself up into a frenetic state of rhetoric in recent weeks" Mr Hague said. "There is a danger they will believe their own paranoid rhetoric."
He said the international response must be "clear, united and calm", and warned against "responding rhetorically to every rhetorical flourish and announcement by the North Korea regime".
He said the North had a "strategic choice" between its current, confrontational stance, and a more open engagement with the rest of the world.
"We should be worried about many things North Korea does," Hague added. "It is developing nuclear weapons and long-range missile technology, and it is engaged in the proliferation of those items to other countries wherever it can."
However, he warned that the bellicose statements emanating from the government of Kim Jong-un could be motivated primarily by internal political and propaganda purposes, and were not borne out by intelligence on troop positions.
"In recent days and weeks, we have not seen the repositioning of forces or the redeployment of ground forces that one might expect to see in the period prior to a military assault or all-out conflict."
This week, the North reportedly moved at least one missile to its east coast. It has threatened to strike the Pacific island of Guam, where the US has a military base.