North Korea is preparing to launch a ballistic missile in defiance of United Nations security council resolution 2270, US officials believe. The test launch of the intermediate-range Musudan missile could be timed to coincide with the US presidential election on Tuesday (8 November) according to reports.
Two unnamed US officials with access to the latest intelligence assessments told Fox News the launch would probably take place between 2 and 4 November, based on the latest satellite imagery.
If the launch of the Musudan is confirmed, it would be the eighth such launch in the past eight months, along with two nuclear tests. The last Musudan test, on 20 October, is thought to have ended in failure when the missile exploded just after launch.
Jeffrey Lewis, a North Korea expert at the Middlebury Institute of International Studies, told Fox News another launch seemed imminent. "I think it's a real test," said Lewis. "They are going to keep firing until it works."
Western and South Korean observers are concerned about the Musudan system because North Korea may have developed miniature nuclear warheads which the missile could carry.
The Musudan has a range of 1,800 miles (3,000 km) and can be launched from mobile launchers which are easily moved and concealed.
The suspected launch follows North Korea seemingly timing its tests deliberately with major events in the United States. The failed launch on 20 October took place during the third and final Presidential debate between Hillary Clinton and Donald Trump.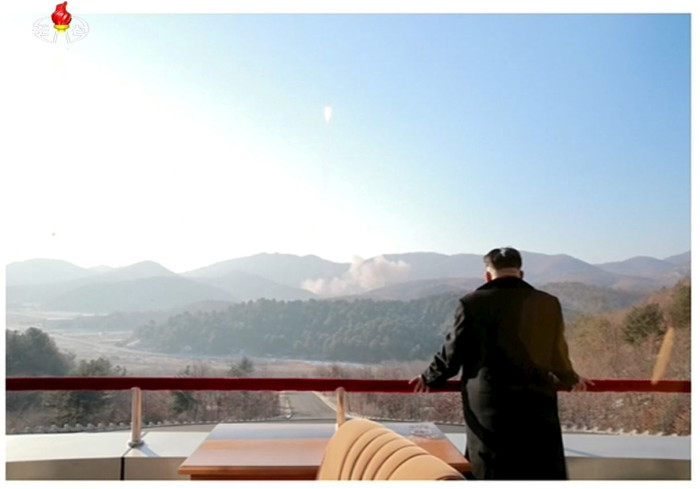 In February, the regime launched a satellite into space on Superbowl Sunday. That was condemned by the UN Security Council in March along with the nuclear test in January (2016). The tests were banned under Resolution 2270.
North Korean President Kim Jong-un and his state-controlled media frequently accuse the US and South Korea of military aggression in the region and claim it needs a nuclear deterrent as a form of defence.
It has even broadcast propaganda videos portraying the annihilation of Washington by nuclear attack and says it has developed a hydrogen bomb, which would be far more powerful than conventional nuclear weapons.