A four-minute video entitled A Short, Three-Day War, has been released on North Korea's government and propaganda YouTube channel Uriminzokkiri, showing a fantasy invasion of South Korea.
In the opening seconds of the video clip, there are scenes of thousands of tanks rolling across snow-covered fields towards Seoul, the capital of South Korea.
Heavy rocket fire unleashes missiles, demonstrating North Korea's superior armed strength.
According to the soundtrack on the video, 4,000 tanks and 3,000 armoured vehicles will take part in the war scenario.
The clip also shows crack North Korean troops in action, running across fields. They carry flags as bombs explode around them. Acrobatic soldiers perform forward rolls over barbed wire to demonstrate their fearlessness.
The action then takes to the skies, showing North Korean planes dropping bombs and parachuting in hundreds of paratroopers. There are also scenes of battleships and other pyrotechnic displays, bearing more than a passing resemblance to war simulation video games.
The narrator announces that "troops will occupy Seoul and other cities", taking 150,000 US citizens as hostages, according to RT.
South Korea's US expatriate population is estimated at a little over 130,000, while there are also 28,000 US troops based in the country.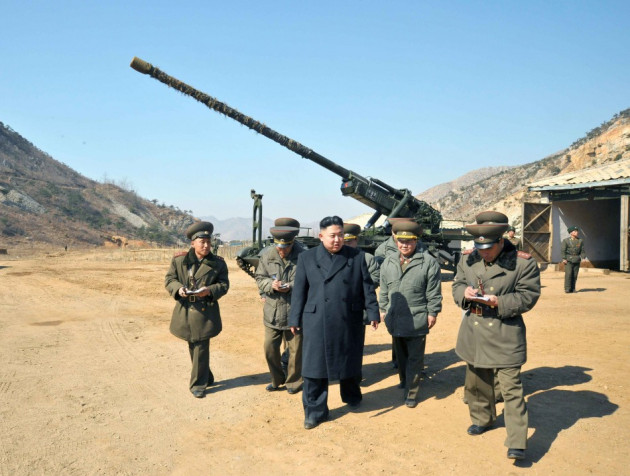 This is the second time that Pyongyang has released video about military assaults.
On 19 March, the YouTube channel Uriminzokkiri published a video called Firestorms will rain on the Headquarters of War. It portrayed a simulated attack on the White House and the US Capitol Building in Washington DC.
"There is no limit to the range of our strategic rockets," the narrator boasts on the soundtrack.
In February, North Korea also created a video depicting US President Barack Obama and American soldiers through a background of flames, ending with the a simulation of a nuclear explosion underground.
The clip was released following the successful third nuclear test carried out by Pyongyang.
North Korea has issued several warnings to Washington and Seoul, threatening to launch a nuclear attack and to break the 60-year armistice that ended the Korean War.