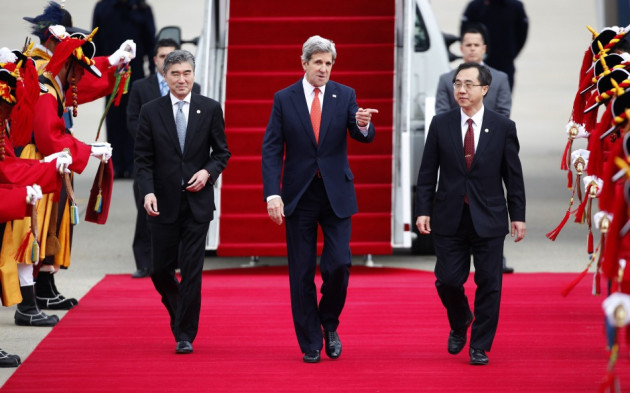 US Secretary of State John Kerry has arrived in Seoul amid rising tensions in the Korean peninsula over the belligerent threats issued by Pyongyang.
Kerry will hold talks with South Korea's foreign minister Yun Byung-se during a three-day Asian tour, which also includes a visit to China and Japan.
The pair are certain to discuss the provocative stance of North Korea, which is currently keeping missiles on stand-by targeting both the US and South Korea.
"I expect that the agenda of the upcoming meeting will include the topics discussed at the previous meeting ‑ key pending issues and issues related to the Korean peninsula, including ways to address North Korea's threats of provocations," said South Korea's foreign ministry spokesperson Cho Tai-young.
Kerry has in London for the G8 foreign ministers' meeting this week, where the participating countries unanimously condemned the latest threats by North Korea.
"If the DPRK [North Korea] conducts another missile launch, or nuclear test, we have committed ourselves to take further significant measures," said Britain's Foreign Secretary William Hague, without divulging further details.
Kerry is in Seoul hours after the Pentagon's Defence Intelligence Agency (DIA) said with "moderate confidence" that North Korea may possess the ability to launch a ballistic missile equipped with nuclear bombs.
During a congressional hearing in Washington, Republican Representative Doug Lamborn said: "DIA assesses with moderate confidence the North currently has nuclear weapons capable of delivery by ballistic missiles; however the reliability will be low."
The nuclear angle was played down by the Pentagon later, when spokesperson George Little told reporters that "it would be inaccurate to suggest that the North Korean regime has fully tested, developed or demonstrated the kinds of nuclear capabilities referenced in the passage".
The Pentagon added that Lamborn's remarks were from "an unclassified passage in a classified report". Officials at the hearing refused to discuss the matter as the details pertained to a classified document.
Little's doubts were reiterated by Seoul and a spokesperson said: "North Korea has conducted three nuclear tests, but it is still doubtful that North Korea has made a small, light warhead that can be mounted on a missile."
Both Seoul and Washington have been keeping a close watch on Pyongyang's manoeuvres and have ruled out any abnormal military activity in North Korea.