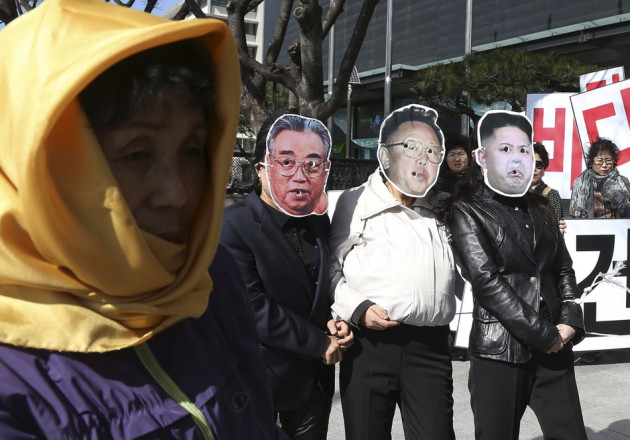 The North Korean army has threatened to attack South Korea "without any notice", following demonstrations in Seoul at which the effigies of North Korean leaders were burnt.
While North Koreans commemorate their late leader Kim Il-sung's birth anniversary, dozens of South Koreans took to the streets burning the effigies of the late leaders and the current leader Kim Jong-un.
Responding to the protests, North Korea vowed "sledge-hammer" retaliation. The Korean People's Army (KPA), which usually does not issue such threats, said Seoul's actions were "thrice-curse.... and monstrous criminal act" and demanded an apology.
"Our retaliatory action will start without any notice. The military demonstration . . . will be powerful sledge-hammer blows at all hostile forces hurting the dignity of the supreme leadership," said the KPA, according to the state-run Korean Central News Agency (KCNA).
"If the puppet authorities truly want dialogue and negotiations, they should apologise," said the KPA, leading to speculation that Pyongyang is signalling that it is open to talks with Seoul in the coming days.
Earlier reports suggested that North Korea has already deployed two medium-range and several short-range missiles targeting the US and South Korea. It was widely speculated that Pyongyang would launch a missile marking its founder's birthday celebrations.
Reacting to Pyongyang's latest round of threats, the South Korean defence ministry said the statement was "regrettable", but declared that its forces would hit back strongly.
"We will retaliate thoroughly and resolutely to provocations staged for any reasons," said defence ministry spokesperson Kim Min Seok.
In the wake of the continuing tensions in the Korean Peninsula, South Korean President Park Geun-hye will hold talks with US President Barack Obama on 7 May.
The White House said that the two leaders will "discuss a broad range of economic and security issues, including continued cooperation on denuclearisation of the Korean Peninsula and countering the North Korean threat."
Park's visit to Washington will be her first summit meeting with Obama.