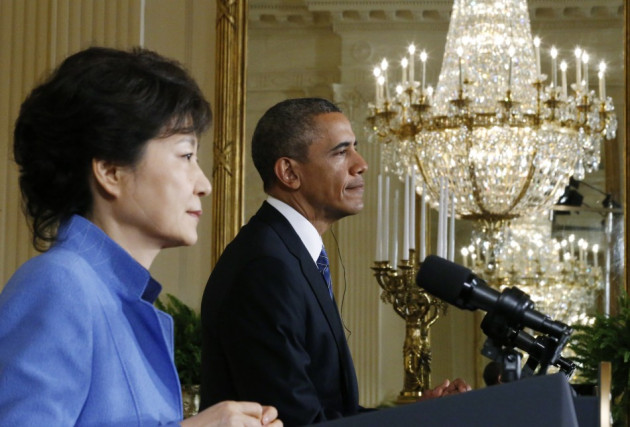 South Korean President Park Geun-hye's visit to the US "is a curtain-raiser to a dangerous war to invade" North Korea, alleges Pyongyang.
Park, who took over as president in February, has concluded her first five-day diplomatic tour of the US.
North Korea's belligerence and the rising tensions in the Korean Peninsula were at the forefront of her talks with President Barack Obama.
Dubbing Park's visit as a "prelude to war," a spokesperson for the Committee for the Peaceful Reunification of Korea (CPRK) said: "Her 'confidence process' means South Korea cannot tolerate the North's access to nukes and there can be no reward for its provocation and threat and it will be forced to pay a price for its provocation," according to the state-run Korean Central News Agency (KCNA).
This is the first time North Korea has openly criticised Park's visit to Washington.
"The South's policymakers are the ones that need to make the right choices," said the unidentified spokesperson, adding Pyongyang has so far been patiently watching Seoul and its lawmakers.
Soon after the meeting with the South Korean leader, Obama said: "The days when North Korea could create a crisis and elicit concessions, those days are over."
Obama and Park warned North Korea against any nuclear provocation. Both leaders also agreed to hold talks with North Korea if it halts its nuclear programme.
Park's visit began amid reports that North Korea had started scaling down its flurry of threats directed at South Korea and the US.
However, tensions in the region persist. The latest round of threats from Pyongyang is likely to raise concerns. Pyongyang had earlier threatened to strike the joint US-South Korea drill if the exercise violated its sovereignty.