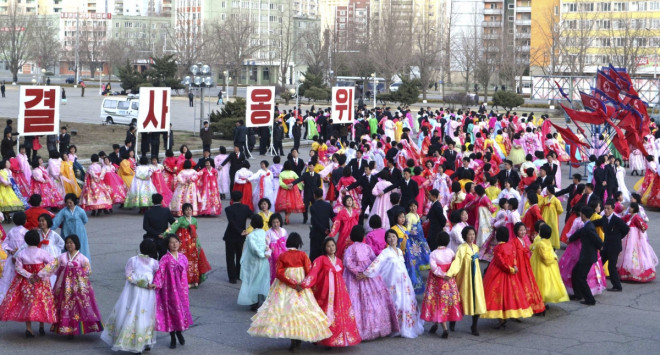 North Koreans cast their "vote" for Kim Jong Un, the sole candidate, in the first parliamentary election held under the totalitarian leader, amidst singing and dancing by military personnel and people alike.
The voting was celebrated with verses carrying titles like "The Billows of Emotion and Happiness" and "We Go to Polling Station". People wearing colourful clothes expressed their delight in voting for their "beloved leader", the descendant of the great Kim Jong-il.
"Some of voters are dancing to the tune of lilting melodies, beating drums or gongs," the state-run Korean Central News Agency said.
Not to be left behind, soldiers too demonstrated their love, fealty and allegiance to Kim as they presented dance performances while waiting in queues to vote, according to the Telegraph.
Authorities claimed a perfect turnout of over 90% of the population, as people with tears of joy gathered to cast their vote and to hear and cheer Kim's address.
Voters who might not want to approve the incumbent had to enter a separate booth, which people avoided for fear of castigation or punishment at the hands of the watchful and authoritarian regime.
"Let's all vote in agreement!" party posters encourage people on the streets of Pyongyang and other North Korean cities.
The state media hailed the victory of leader Kim and his cohorts, citing100% approval of the people.
Even though the results are not yet out, the North Korean media reported that Kim had "won" in his district, in Mount Paekdu, which has national significance as Kim Jong-il is said to have been born there.
"This is an expression of all the service personnel and people's absolute support and profound trust in supreme leader Kim Jong Un as they single-mindedly remain loyal to him," KCNA said.
In the election, the North Korean leadership assigns candidates to constituencies, who are then "approved" by the masses, so the election is basically for new rolls of deputies for the Supreme People's Assembly which meets once a year and seldom has any power when not in session.
However, according to analysts, the election provides a rare chance for a peek into the power structure of the secluded state, and to see which of the officials have fallen in and out of the supreme leader's favour.
The new rolls give the dictator an opportunity to purge defectors and their followers on a large scale at one go, experts say.