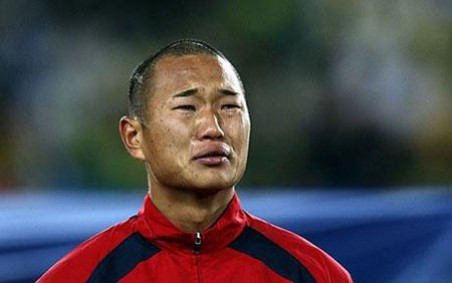 Football players often spark controversy when they leave a club to join a fierce rival, but one North Korean international's move to a club in South Korea surely pushes the concept to its limit.
Jong Tae-Se is making the bold move from Cologne in Germany to South Korean outfit Suwon Samsung Bluewings.
The North Korea striker leapt to fame at the 2010 World Cup in South Africa with starring displays against Brazil, which led him to be dubbed 'the People's Rooney' by the British Press. His patriotic emotional outpourings during the national anthem inspired affection in viewers.
The transfer from Germany, worth around £300,000, could have far-reaching consequences, considering the precarious relationship between the nation for which Jong has a passport and the one in which he shall ply his trade.
South Korea has large pieces of weaponry permanently pointed at its totalitarian neighbour, which responds in kind with displays of blood-curdling sabre-rattling.
Citizens of the South are even forbidden by law to mingle with North Koreans, under a national security law. It is also illegal to say positive things in South Korea about the north, currently ruled by hereditary dictator Kim Jung-un.
Some have even speculated about Jong's safety. However North Korean expert Chris Green told nknews.com: "He'll be fine as long as he does the sensible thing and avoids giving interviews in which he says anything that might be construed as complimentary or in any way "pro" North Korean.
"There are elements of the NSL that are considered current and those that are not said Green. The Republic of Korea has a very interesting approach to 'legality', so I don't expect his very presence to be an issue. The law is applied more flexibly than many people realise."