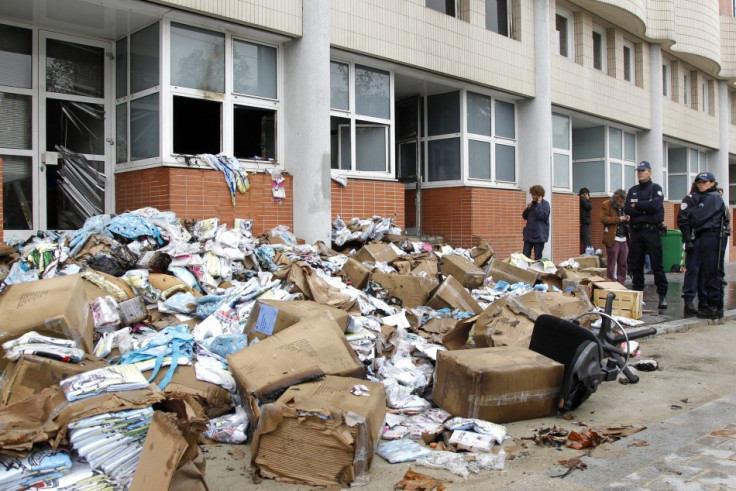 Three Norwegians, linked to al Qaeda, accused of plotting to attack to a Danish newspaper that caricatured the Prophet Muhammad pleaded not guilty on Tuesday in an Oslo court.
Mikael Davud, Shawan Sadek Saeed Bujak and David Jakobsen were arrested in July 2010, under allegations of building a bomb in a basement laboratory with the aim to attack the Jyllands-Posten newspaper, whose 12 cartoons of Muhammad sparked furious criticism in Muslim countries in 2006.
Davud, the alleged ringleader, received explosives training in Pakistan and conspired along with the other two men to hit the Danish newspaper in a plot linked to the same Al Qaeda planners behind 2009 schemes to blow up New York's subway and a British shopping centre.
Later, the plan was shifted to killing Kurt Westergaard, a Danish cartoonist who created one of the most controversial of the 12 drawings, Prosecutor Geir Evanger said.
"This is a ground-breaking case in Norway," Davud's attorney, Arild Karl Humlen, told Reuters.
"It is the first full-scale test of new (Norwegian) terror laws and the first time they (the prosecutors) are linking a terror conspiracy to an international organisation."
Davud, a Norwegian citizen of Chinese Uighur origin, trained with al-Qaeda in Pakistan from 2008 to 2009 and remained in contact with the group until the trio's arrest in July 2010, the prosecutor said.
"Davud has used email to correspond with them and he has talked to them, co-operating about the target," Evanger said.
Weapons manuals, bomb-making instructions and al-Qaida propaganda were found on his computer in Norway, he added.
Humlen said his client insisted the training he had received was in Iran and had nothing to do with al-Qaida.
"He says he went to Iran to learn to make a bomb that he would use at some point in his life to attract interest to what the Chinese are doing to the Uighur population," he said.
These developments come after a firebomb attack had destroyed the headquarters of French satirical weekly Charlie Hebdo after it put a picture of the Prophet on its cover.