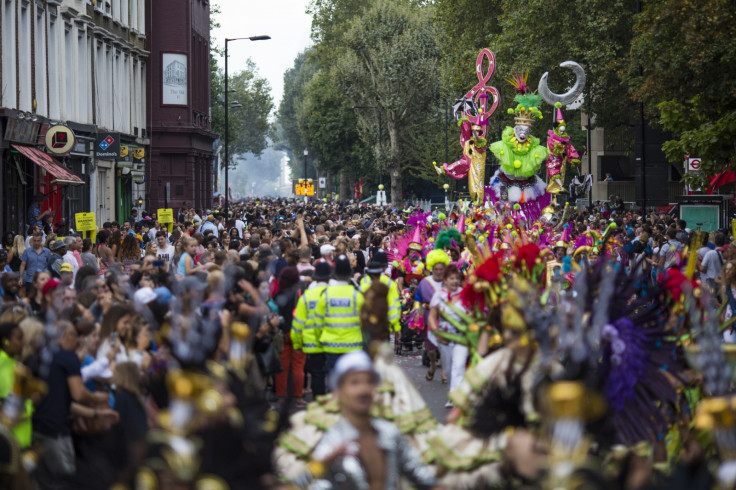 Notting Hill Carnival was hit by some of the worst disorder seen for 15 years with 454 people arrested and five people stabbed. More than a million revellers are thought to have descended on west London on the bank holiday weekend to mark the two day event's 50th anniversary.
While the majority were able to enjoy the carnival atmosphere trouble-free, the event was marred by pockets of violence and disorder.
Scotland Yard said there were 156 arrests on Sunday and 298 arrests on Monday. The majority were for weapon offences or drug possession, while 25 people were detained on suspicion of assaulting police officers.
Three teenagers were among those injured in knife attacks while paramedics treated more than 1,000 people, mostly for alcohol-related problems. At least 74 were taken to hospital.
On Sunday afternoon, a 15-year-old boy was stabbed in Wornington Road – running parallel to the carnival route – with a 14-year-old boy arrested on suspicion of grievous bodily harm. His condition was critical but is now described as not life threatening.
Three minutes later, at 4.28pm, police were called to reports of another stabbing on Portobello Road where paramedics treated a 20-year-old man. His condition was described as not life threatening. There have been no arrests.
A short while later, at 5.09pm, police were called to Ladbroke Grove where a two teenage boys, aged 15 and 16, were found suffering stab wounds. Both were taken to hospital, Their conditions were not life threatening. There have been no arrests.
The Met Police said a fifth male approached officers at Kensal Rise tube station telling them he had been stabbed in the head, but declined to provide further detains and subsequently left the scene.
The two-day celebration of Caribbean culture in London hosted 60 bands and 38 sound systems, with the majority of revellers enjoying what is described by organisers as Europe's largest street party.
The carnival, which began in the 1960s and now attracts visitors from all over the world, saw a heavy police presence throughout.
Figures from the Met Police suggest this year may have seen the worst disorder for 15 years, with the number of arrests higher than any year since 2002.
Offences included drug possession, offensive weapon offences, criminal damage, assault, theft and drink-driving. Some 13 people were detained on suspicion of sexual offences.
Met Police licensing officers also seized a large canister of compressed nitrous oxide at Queensway – just half a mile from Notting Hill Gate tube station. It is thought to have a street value of more than £150,000 and the capacity to fill 2,500 canisters. Nitrous oxide is among a long list of now outlawed former legal highs.
The higher number of arrests could be partly explained by the Met Police's use of "super-recognisers" – specially trained officers whose job is identify any offenders committing crimes or who is banned from the event under bail conditions.
Scotland Yard also trialled a facial recognition system which uses cameras to help identify wanted offenders by scanning faces and comparing it with a database of custody images.