Amid discussions on videogame violence and gun control in the wake of the Sandy Hook school shooting in December, 2012, the National Rifle Association has released its own iPhone computer game.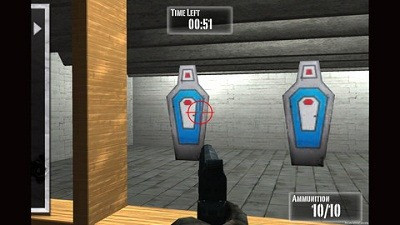 NRA: Practice Range is a free first-person shooter which sees players using real models of guns to shoot targets at a firing range.
The game is rated for children aged four and up and includes tips about gun safety, information on guns laws in each US state and a live NRA news feed. Players can purchase extra guns to use in the game for $1 each.
NRA: Practice Range has been launched only a month after NRA executive vice president Wayne LaPierre called videogames a "callous and corrupt shadow industry that sells and sows violence against people" citing games like Grand Theft Auto, Mortal Kombat and Splatterhouse as examples of where videogames may cause gun violence.
Speaking at an NRA press conference, as reported by Games Industry International, LaPierre said games the "filthiest form of pornography":
"They [videogames] portray murder as a way of life and then have the nerve to call it entertainment," said LaPierre. "But is that what it really is? Isn't fantasizing about killing people as a way to get your kicks really the filthiest form of pornography?"
Practice Range is the second game to be released by the NRA, after Gun Club, which also featured first-person shooting at targets, was launched for the PlayStation 2 in 2006.
Other protests have formed around videogames following the shooting at Sandy Hook Elementary in Newton, Connecticut which left 26 people dead. Southington, a town less than thirty miles away from Newton had planned to offer gift certificates to citizens who handed in violent videogames to be destroyed. The town has since cancelled those plans, explaining that its mission to get parents talking to their children about violent games has already been accomplished.
As reported by Kotaku, US Vice President Joe Biden recently met with leading figures from the videogame industry to discuss games' links to violent behaviour. At a meeting which included EA President John Riccitiello, the Vice President said he was "agnostic" when it came to a link between videogames and violence.
Vice President Biden's recommendations on how to deal with gun crime are expected to be published today, 15 January.