Latest documents leaked by NSA whistleblower Edward Snowden have alleged that there exists a top-secret NSA program that is capable of mapping the entire world's internet, locating every single smartphone, tablet and computer connected on the web in real-time.
The ultimate Big Brother program, entitled Treasure Map, is not only able to hack broadband networks belonging to internet service providers (ISPs) around the world, but also monitors every single landline and mobile network running in the world in order to create an accurate visualisation of the world's data traffic.
Countries in the Five Eyes alliance, an intelligence cooperation agreement signed between the UK, US, Australia, New Zealand and Canada are able to access data from 30-50 million IP addresses and up to 10 million IPV4 and IPV6 traceroutes a day, thanks to servers that have been quietly stationed in "unwitting data centres around the globe".
Data centres are huge warehouses filled with racks of servers and telecoms equipment and are usually placed in remote locations, where they route much of the world's data traffic.
The NSA documents state that the owners of these data centres are not aware that servers have been implanted in their facilities, intercepting data traffic from countries like South Africa, Singapore, China, Taiwan, Malaysia, Indonesia, Thailand, Russia, Germany, Poland, Demark, Latvia, Ukraine, Argentina and Brazil.
In diagrams explaining how they are able to collect data, the Treasure Map documents specifically mention traffic routed through 11 international ISPs and telecoms providers including Singapore's SingTel, Australia's Telstra, Pakistan's Paknet, server hosting firm ISPrime in the US, Telekom Malaysia and Verizon Business EMEA, a B2B commercial IP provider.
But wait, there's more
What is even scarier is that GCHQ documents have also been obtained which clearly show that it managed to gain access to the networks of several German mobile, satellite and telecommunication companies like Deutsche Telekom, Netcologne and Stellar PCS.
Stellar PCS handles much of the world's satellite internet communications to remote parts of the world, while Deutsche Telekom is considered to be one of the biggest mobile operators in the world (you can watch Stellar PCS' engineers reactions to the news in the short film Chokepoint above).
Deutsche's T-Mobile brand is currently in 15 countries including the US, UK (under EE), Netherlands, Poland, Romania, Slovakia, Austria, Croatia, Germany, Hungary, Republic of Macedonia, Montenegro, US Virgin Islands and Puerto Rico.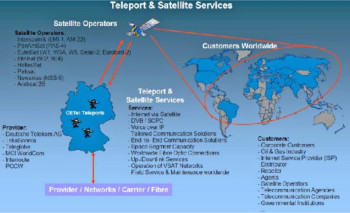 The GCHQ also lists 11 international satellite/mobile/telecoms providers who work in partnership with Deutsche, Netcologne and Stellar PCS to route phone calls around the world, including British Telecoms, Orange in France, Israel's Etisalat, Cable and Wireless in the US.
The three German providers also have a partnership with TeliaSonera, the major provider for Nordic nations including Sweden, Norway, Finland, Estonia, Georgia and Lithuania, as well as significant business in Middle-Eastern countries like Turkey, Uzbekistan, Nepal, Afghanistan, Kazakhstan and Azerbaijan.
By monitoring the communications networks belonging to Deutsche Telekom, Netcologne and Stellar PCS, the NSA and all countries in the Five Eyes alliance essentially have access to all communications in the world.
The Intercept, which was the first to report the news, is a website run by a group of journalists who have been given access to documents relating to the NSA and government intelligence gathering by Edward Snowden.
The release of these documents has clearly been timed to coincide with the New Zealand 2014 General Election this Saturday.
Snowden is publicly backing Kim Dotcom's Internet Party, which is stressing recent claims by The Intecept's reporter Glenn Greenwald that NZ prime minister John Key knew about and sanctioned mass surveillance plans in the country.
IBTimes UK is in the process of contacting the communication providers listed for comment.