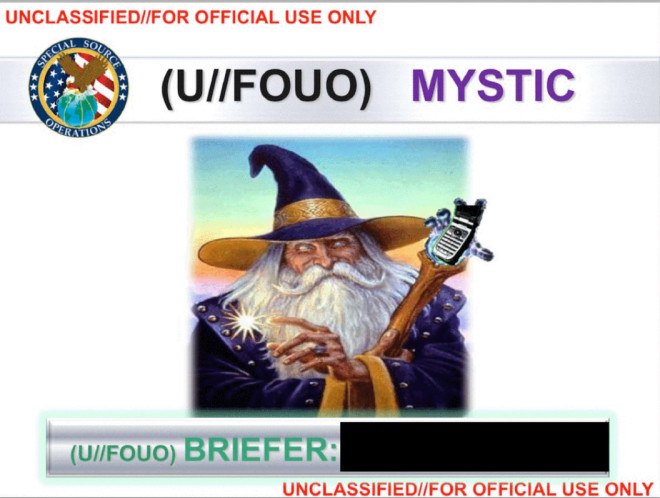 The NSA has a voice interception system called Mystic that can record the phone calls of an entire country and store the calls for 30 days, according to sources and documents leaked by Edward Snowden to the Washington Post.
One of the documents is a PowerPoint presentation from the NSA's Special Source Operations team about Mystic that was used for weekly briefings. The first slide features a picture of a wizard holding a mobile phone.
Mystic was first used in 2009 and two years later, an additional tool, "Retro", was introduced that had the ability to retrieve and replay voices from any call, a senior manager for the system said.
Following a request by the US government, the Post withheld the details of which countries the system was used in.
The documents list at least seven target nations where the collection systems were still being used to record "every single" conversation.
Billions of audio files can be stored for 30 days, after which the oldest are deleted unless analysts decide to keep them. Although the analysts listen to less than 1% of all calls, millions of voice clippings are processed and sent to long-term storage every month.
The documents also show that the NSA has been having problems in storing the bulky audio files, so while the system has great potential to be used for surveillance, the NSA will only be able to fully reap the benefits after the top-secret NSA data centre being built in the Utah desert is complete.
Stored in the cloud
The data centre will help the NSA link its collection systems to the cloud in order to "cope with the vast increases in digital data that have accompanied the rise of the global network", an overview of the facility stated.
Snowden was a former security contractor for the US government who went into hiding after leaking multiple documents about NSA surveillance.
The information from the documents revealed that the NSA and GCHQ in Cheltenham had been spying on the internet communications of millions of people around the world, as well as monitoring phone conversations in the US and tapping the phones of foreign politicians.
Last week, it was revealed that the NSA had been using a fake Facebook server to spread automated malware with the ability to monitor conversations and take secret photos using a computer's microphone and webcam.
Snowden is living in exile in Russia where he continues to release more documents to the media.