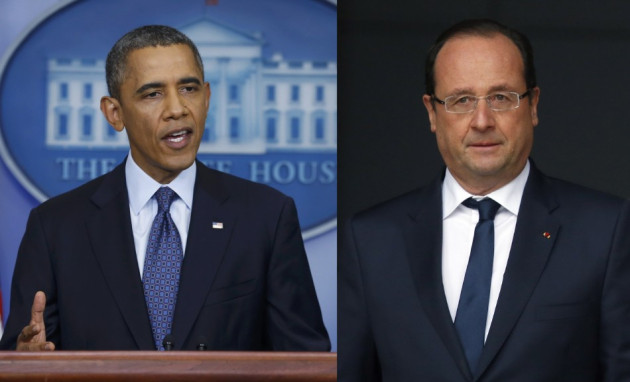 French president Francois Hollande has expressed his anger at US surveillance tactics during a telephone conversation with Barack Obama, after it was revealed that the National Security Agency (NSA) snooped on millions of French nationals.
Hollande's office claim he strongly condemned Washington's surveillance activities, expressing "deep disapproval of these practices, which are unacceptable between friends and allies because they infringe on the privacy of French citizens."
The statement went on to say that the French leader has "asked that all explanations be provided, as well as all information that could be at the disposal of former NSA consultant Edward Snowden".
The latest disclosures have also forced the White House to admit that the claims leave reasonable grounds for Washington's allies to raise questions over the US spying programme.
Following Obama's phone call to pacify Paris over the embarrassing leaks, the White House said in a statement: "The [US] president and President Hollande discussed recent disclosures in the press - some of which have distorted our activities, and some of which raise legitimate questions for our friends and allies about how these capabilities are employed.
"The president made clear that the United States has begun to review the way that we gather intelligence, so that we properly balance the legitimate security concerns of our citizens and allies with the privacy concerns that all people share. The two presidents agreed that we should continue to discuss these issues in diplomatic channels."
The French daily Le Monde, citing top-secret US documents leaked by whistleblower Edward Snowden, had earlier reported that the NSA had snooped on high-profile politicians and business people in France without significant basis for terrorism-linked suspicions.
Hours after the exposé, Paris summoned US ambassador Charles Rivkin over the leaks.
The disclosures have coincided with US Secretary of State John Kerry's arrival in Paris for Middle East talks mainly on the Syrian conflict. The allegations threaten to cast a shadow over Kerry's talks as he is set to pitch for closer military and intelligence cooperation with France.
"We will have ongoing bilateral consultations, including with our French partners, to address this question of any reports by the US government gathering information from some of the agencies and those consultations are going to continue," Kerry told reporters.