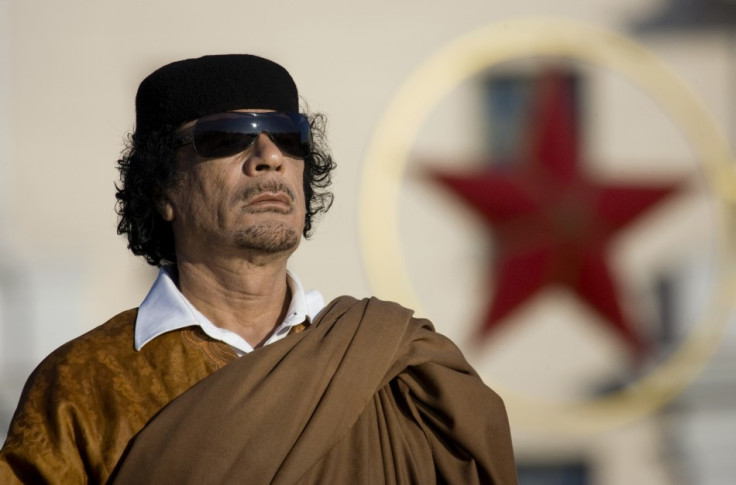 Libya's ruling National Transitional Council has said it will put the killers of deposed dictator Muammar Gaddafi on trial, al Arabiya TV has reported.
The news come as international pressure to bring those responsible for the death of Gaddafi is growing.
Fears about the increase of violence in the last weeks of the conflict are mounting following a series of controversial revelations that showed NTC fighters might also have committed war crimes.
The death of Gaddafi also remains controversial.
While the NTC originally said the leader had been captured alive and died in crossfire while the ambulance that transported him headed to hospital, footages that emerged later on suggested otherwise.
Graphic videos of Gaddafi being beaten up and kicked around by rebel fighters circulate on the internet, and a young Libyan, who has not yet been identified claimed he shot Gaddafi in the head after his capture.
'We grabbed him,' the fighter says in a video. 'I hit him in the face. Some fighters wanted to take him away and that's when I shot him, twice: in the face and in the chest.'
The fighter also shows what appears to be Gaddafi's blood-stained shirt, before brandishing a gold ring he says he took off the dictator's hand.
The driver of the ambulance which transported the Colonel has also claimed Gaddafi was dead when put in his vehicle and a video showing a second man who allegedly killed Gaddafi is also circulating online.
The footage shows fighters praising a man brandishing a handgun, who, they say, killed the ousted Libyan leader Muammar Gaddafi when the leader was in the ambulance.
"He's the killer. And I am the witness who saw him. He's the guy who killed him. He's the guy who killed him," shouts a fighter.
The NTC subsequently ordered an investigation into the death of the former Libyan leader and set up a commission of inquiry.
"In response to international calls, we have started to put in place a commission tasked with investigating the circumstances of Muammar Gaddafi's death in the clash with his circle as he was being captured," Mustafa Abdul Jalil, the head of the NTC, said at a news conference in Benghazi on Monday.
It is not known yet if Gaddafi's killer or killers have been officially identified, interrogated or arrested, or if the NTC just decided to reiterate its intention to investigate the death and bring those responsible to trial.