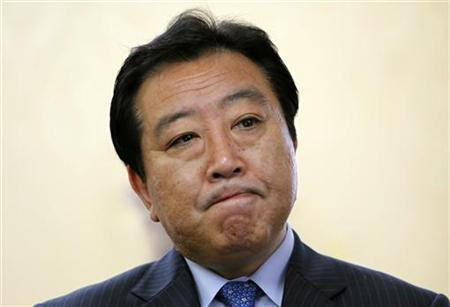 Japan has a new Prime Minister, Yoshihiko Noda. A compromise candidate for the post in a divided Democratic Party of Japan, the relatively unknown former Minister of Finance under the outgoing PM, Naoto Kan, Mr Noda was appointed on 02 September this year.
Losing no time in making his policy on nuclear energy clear, Mr Noda's very first speech on the day of his appointment, promised to keep to Mr Kan's phasing out of nuclear power in Japan's energy production mix. Prime Minister Noda said that it would be "unrealistic" to construct new nuclear plants in the wake of the devastating 9.0 magnitude earthquake and following tsunami - parts of the tsunami wave as high as 40.5 metres (133 feet) - of 09 March 2011 that desolated the Tohoku region of the country.
Fukushima Nuclear Power Station, situated in Tohoku's southernmost prefecture, suffering no significant damage from the earthquake itself, it was the 15 metres (49 feet) high tsunami wave easily breaching the plant's 5.7 metre seawall, which led to the failure of the safety and cooling systems and ultimate destruction of the power station.
The effects of the 11 March earthquake were to be felt in the new Prime Minister's own Diet constituency. Mr Noda represents the Tokyo satellite city of Funabashi (609,000) in Chiba Prefecture and this was one of several sites around the capital to suffer soil liquefaction as a result of the earthquake.
In this same inaugural speech, the Prime Minister added that existing nuclear plants would not have their lives extended, come the end of their currently approved lifespans - this no doubt reflecting the present mood of the majority of Japan's population.
As nuclear power produces about 24 per cent of Japan's electricity at present and some 12 per cent of its total energy consumption, Mr Noda emphasized that the reality of Japan's position meant that the phasing out of nuclear energy must be gradual and that plants which had been closed down as a precautionary measure following March's nuclear calamity, would be restarted again after rigorous safety checks were completed and local communities in their vicinity reassured.
Constraining any faster nuclear close down approach is Japan's somewhat precarious finances. The Economist on 03 September 2011 remarked that in his speech for the Party leadership, Mr Noda "...spoke plainly, exuding honesty and consistency..." Having attained the prize, the same article goes on to say:"...And Mr Noda is deeply concerned about Japan's fiscal health, not flinching from his bold but controversial stance in favour of higher taxes."
Well it's high time that a Japanese Prime Minister grasped this nettle, with a World Bank estimate earlier this year reckoning that the country's national debt by 2012 will reach 220 per cent of GDP and the IMF suggesting it could reach 233 per cent in the relatively near future, the world's worst debt to GDP ratio, though thankfully little held abroad. The aftermath of the Tohoku earthquake and tsunami could be anything from $235 billion to $300 billion so that won't help matters.
Confidence in the Government and politicians in general has taken a knock of late. I would hazard since Yasuhiro Nakasone was Prime Minister between 1982 and 1987 although I'm sure many may judge me to be unfair with that remark. Yet Mr Noda is the sixth Prime Minister in the past five years. So what??
Several papers reported the rating agency Moody's downgrading of the Japanese Government debt to Aa3, prompted by the country's "large deficit and debt levels". This is hardly of recent origin as Moody's Report acknowledges:
"Large deficits and the collapse of growth since the early 1990's have led to an overhang on government debt."
Using Moody's Ratings Report as a basis, Cathy Adams of The Observer on 24 August 2011 states that, March 2011 catastrophes aside: "...frequent changes in government over the past five years have made it difficult to implement long-term economic and fiscal strategies into proper policies."
Maybe to ensure that the Government is "on message", to mark the passing of six months since the quake and tsunami which killed 20,000 people, thousands of anti-nuclear protesters took to the streets of Tokyo and other cities in Japan on Sunday, 11 March, venting their anger on the Government's (mis)handling of the nuclear crisis which followed as a result
I'm quite sure Prime Minister Noda is aware of their concerns and is to be congratulated on his promotion. For Japan's benefit, let him have a reasonable tenure of office. Much longer than the official he so recently appointed to be his Minister of Trade and Industry, Yoshio Hachiro.
Mr Hachiro, on a tour of the Fukushima plant and area on Thursday last, made a joke in rather poor taste to a reporter concerning nuclear radiation. Earlier the same day he had also referred to the evacuated communities near the plant as "dead towns". His resignation was accepted on Saturday.