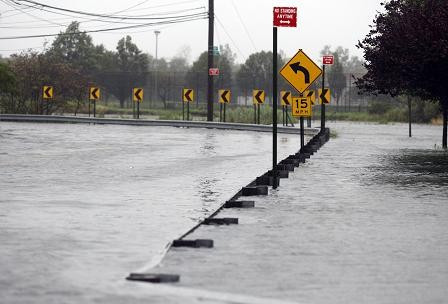 Two nuclear reactors in southern New Jersey have powered partway down due to debris from the aftermath of Hurricane Irene that is now blocking essential cooling water intakes, the Daily Mail has revealed.
The Washington Post reports that Public Service Electric & Gas, which operates the Salem and Hope Creek nuclear plants in Lower Alloways Creek, N.J., and is a part owner of the Peach Bottom station in Delta, Pa., said Wednesday the Salem II units are getting "unusual amounts" of grass and trash at the screen where water is taken in from the Delaware River.
PSE&G spokesman Joe Delmar said the Salem I unit is running at 62 percent of full power and Salem II is at 90 percent. The adjacent Hope Creek reactor hasn't been affected. Delmar says it's unclear when the plants will return to full power.
The Daily Mail has also reported that another nuclear reactor in Maryland has been forced to shut down due to wind damage caused by the hurricane while others have been taken offline or are operating at a reduced capacity. Fourteen nuclear plants from North Carolina to New Hampshire where in the path of Hurricane Irene, with Fox News reporting that the company that designed the Japan's Fukushima reactors designed two of the reactors in Irene's path, including the Hope Creek.
The U.S. Nuclear Regulatory Commission requires all nuclear plants to be able to withstand the most severe natural phenomena historically reported for each plant's geographic area out to 200 miles. The NRC requires all nuclear plant designs to include a substantial margin for safety.
Emergency core cooling systems are protected from water incursion, including water tight doors, elevation of equipment above potential flood levels and/or special engineered flood barriers. Emergency diesel generator exhausts are elevated on roofs