International Women's Day 2012: The Nude Revolutionary Calendar

A Nude Photo Revolutionary Calendar is set to be launched on 8 March, International Women's Day, an homage to Aliaa Magda Elmahdy, the Egyptian blogger who posted nude pictures of herself to protest against sexual discrimination in Islam.
The calendar is the brainchild of human rights activist and campaigner Maryam Namazie, who announced the initiative in December. It was designed by SlutWalk Founder Toronto Sonya Barnett.
"Islamism and the religious right are obsessed with women's bodies," said Namazie. "They demand that we be veiled, bound, and gagged. In the face of this assault, nudity breaks taboos and is an important form of resistance."
Among the other who joined the initiative, We are atheism founder Amanda Brown, FEMEN activist Alena Magelat and writer Saskia Vogel.
"In solidarity with Aliaa Magda Elmahdy, I would like to stress that our bodies (and thoughts) belong to us and to nobody else," said Nina Sankari, another woman who stripped to "scream against a society of violence, racism, sexism, sexual harassment and hypocrisy".
Blogger Greta Christina, also on the calendar, claimed that sexual freedom is "the one that commonly gets ignored or trivialized".
"If it weren't for people who took a strong stand against misogyny and for free-expression, we'd still be in an age where showing your ankles was taboo," said another blogger, Emily Dietle.
Saskia Vogel hopes the calendar will reach people "who are uncomfortable with empowered female nudity", helping them to reconsider the importance of a nude figure.
Some Iranian women have released a video on YouTube pledging their support to the Nude Revolutionary Calendar. The hashtag for the project, #nudephotorevolutionary, is already trending on Twitter.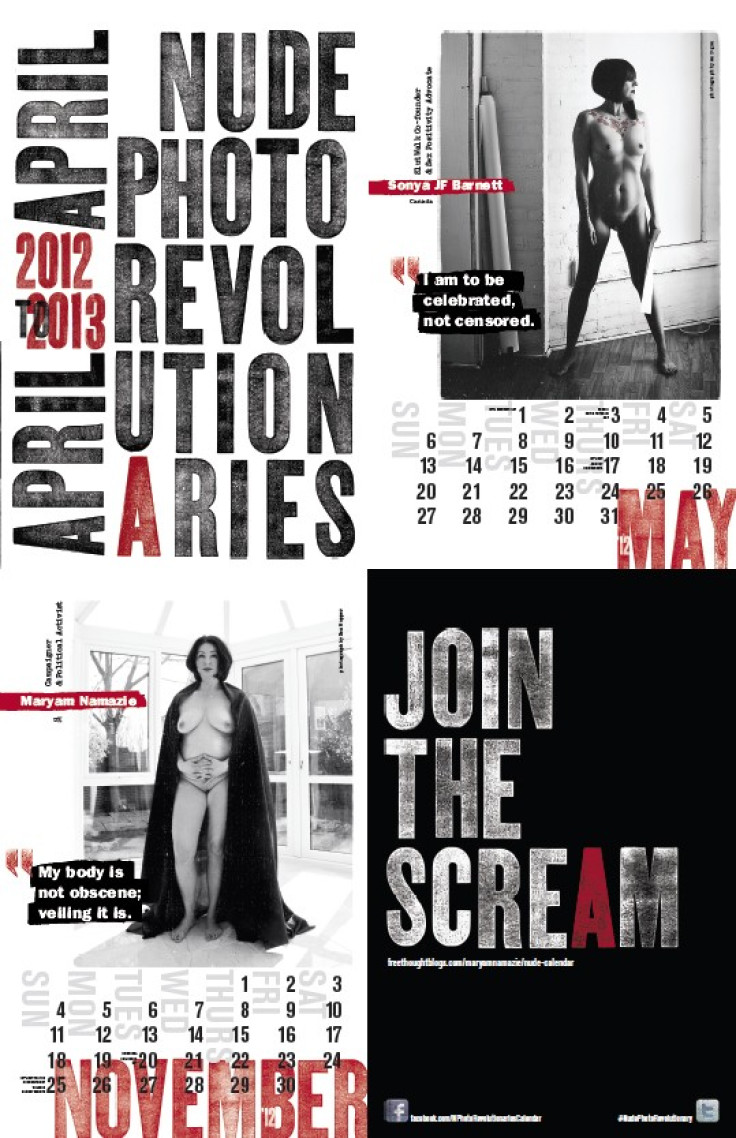 The 20-year-old Aliaa Magda Elmahdy triggered a controversy in the Arab world in November for a series of naked pictures of herself that she published on her blog under her real name in a protest against Islamic extremism. Aliaa, a student of Media and Communication at the American university in Cairo, originally published the pictures to complain against the ban on nude models on Egyptian universities and books.
"Put the models who worked at the Faculty of Fine Arts until the early 1970s on trial," she told her critics. "Hide art books and smash nude archaeological statues, then take your clothes off and look at yourselves in the mirror. Burn your self-despised bodies in order to get rid of your sexual complexes forever, before directing your sexist insults at me or denying me the freedom of expression."
Proceeds from the calendar will go towards supporting women's rights and free expression.
To view and purchase a copy of the Nude Photo Revolutionary Calendar, available from 8 March, visit: http://freethoughtblogs.com/maryamnamazie/nude-calendar/
Iranian Activist Likens Nude Revolutionary Calendar to Topless Tabloid The Sun
© Copyright IBTimes 2023. All rights reserved.